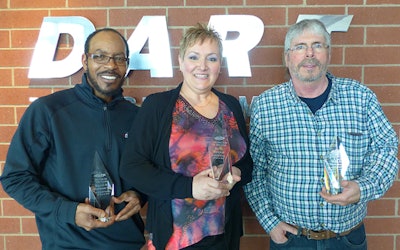 Dart Transit Company recently presented its company driver of the year and the contractor of the year awards.
Kelvin Haywood, who works regionally out of the St. Louis area, was named company driver of the year. Mike and Bev Monahan, who share the driving duties on a dedicated account, were recognized as the past year's leading contractors.
Over the past year, Haywood drove more than 131,000 accident-free miles, while only going out of route 1.6 percent of the time during his travels. The Monahans collectively compiled more than 180,000 accident-free miles and, as owner-operators, they achieved nearly 8.5 miles per gallon for all miles driven.
Haywood has more than 14 years of experience as a professional driver, and he is now in his fifth year of working as a company driver for Dart. A long-time volunteer coach and mentor with the Boys & Girls Club of St. Louis, Haywood, in searching for over-the-road opportunities, wanted to stay close to home throughout the week. Dart was able to offer Haywood a regional opportunity out of St. Louis that ensures he is home every night.
"I know what kind of work I put in every year, but I was still very surprised when I got the call that I was Dart's Company Driver of the Year. It's taken a while for it to sink in," said Haywood. "I am very grateful to Dart for this honor. To me, this award speaks about you not only as a driver but as a person. It's at the top for my career. In fact, other than my sons being born, I would rank this second among all the highlights in my life."
Mike Monahan, who has 38 years of experience in the trucking industry, contracted with Dart as an owner-operator in 1994. Bev Monahan has been working with Dart for the past eight years. The dedicated account the Monahans have serviced for the past several years has provided them with the opportunity to work with Dart in a unique manner. Each day one of the Monahans is able to stay at home while the other is driving the truck. The Monahans are currently in the process of adding a second truck to their operation.
"This is the best honor I've had in my entire career," said Mike. "I have always tried to focus on driving and doing my job to the best of my ability. It means a lot to both of us to be recognized for the job we are doing out here."
"I'm still kind of pinching myself over the whole experience and the honor," said Bev. "We've had so many good things happen for us lately. It feels like it's been Christmas for months. This award was huge for us. We are tickled pink about it, and we're very appreciative."
Haywood and the Monahans were respectively selected from a group of candidates who had been previously honored as either company drivers or contractors of the month with Dart in 2018. In addition to the monthly award winners, the field of nominees also included a small group of company drivers and contractors who had compiled outstanding years with Dart.
"We are very grateful to have had an impressive collection of nominees for both the contractor of the year and the driver of the year awards," said Gary Randall, Dart's senior vice president of fleet operations. "The overall performances put together by Bev and Mike on the contractor side and by Kelvin among our company drivers were truly outstanding. The professionalism and dedication that Kelvin, Mike and Bev display on the road and with customers is a great example for everyone at Dart."
Dart recently held an awards ceremony and a luncheon at its headquarters in Eagan, Minnesota.