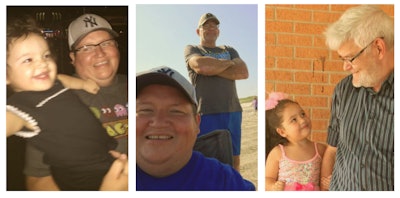 Stan Davis lost his mother, Patricia, in 2004 when he was 24 years old. The year after her death was unimaginably difficult but Davis had a strong support system in his stepfather, Terry Pratt, an over the road truck driver.
"The one person I could count on was Terry. With him being on the road at that time he had more free time to just talk," Davis said.
During their conversations, Pratt encouraged Davis to pursue trucking as a career. Davis would always be able to find a job and Pratt, who'd been in the industry since 1999, could train him. Davis was on board with the idea and the two became team drivers in 2005.
"He took me under his wing and taught me," Davis said. Knowing that Pratt "knew what he was doing and he was able to train me the way he needed me to be trained" helped Davis build confidence behind the wheel.
For Pratt, it gave him peace of mind to know Davis was trained to his personal standard.
"It was nice to be able to train him like I wanted him trained to do what I wanted him to do," Davis said. "I trust him more than I trust anybody else. I wouldn't get in the truck with anybody else."
The two men, from Corpus Christi, Texas, teamed together until 2010 when they both got solo driving gigs in the booming oil fields. Driving solo made Davis realize just how well-trained he was thanks to Pratt's mentoring.
"That really opened my eyes showing me that he trained me so well," Davis said.
They started back teaming together three years ago for Tri-State Motor Transit, an arms, ammunition, and explosives (AA&E) carrier that is part of the Daseke family. Davis and Pratt are lease operators on the path to becoming owner-operators. They drive a 2019 Volvo 860 with a Volvo D13 engine and I-Shift 12-speed transmission. When they're not over the road the two also live together with Davis' family.
Driving team together wasn't just a reliable way to get Davis into the trucking industry. Working together gave them an opportunity to grow closer as a family. Stan calls driving with a loved one an amazing opportunity, but Pratt has some straightforward advice: "Make sure you can tolerate them. If you don't get along, don't do it."
After spending so much time together Davis and Pratt have developed a casual banter. They often get accused of arguing like an old married couple, Pratt jokes.
"I don't know if it's just the way we relate to each other, but we joke about a lot of things that I guess most people wouldn't," said Pratt. My family will listen to us and tell us we sound like an old married couple because we bicker about things that most people wouldn't. Some people laugh at us when we spend too much time in their presence and we start going at each other, but it's all in fun, which is a good thing. We never get mad at each other that bad."
For Davis, there's no one he would rather have as a mentor and co-driver.
"I think we both get a high pride of being able to work together and live together and take care of my family," Davis said. "There are some days that it works and some days it doesn't but the love and the bond you have with your relative is the glue that sticks everything together."