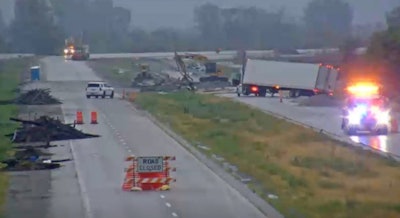 A tractor-trailer driver seems to have made a bad choice Saturday, July 20 while driving through Iowa, and people had plenty to say about it
That state's DOT Motor Vehicle Enforcement Department said in a Facebook post with a traffic cam photo:
"This semi found out the hard way yesterday that barricades and "ROAD CLOSED" signs aren't just suggestions to stay away from certain areas."
Not surprisingly, folks had their say.
Some wanted this driver off the road:
Peter Toft Take his CDL!
Thomas Vegas Ohman Freakin idiot… he needs his license revoked
Others figured the driver might not have understood the meaning of the signs:
Eddie Hull Could they read English? Or is that going to his defense?
Justin James Another foreigner who can't read the signs.
Leroy Smoocher Probably didn't speak English and couldn't read the road signs. When are you guys going to put these offenders out of service?
And, at least one person suggested (possibly tongue in cheek) technology might be at fault:
Tom Morse I thought the e-log was to take care of all of this.