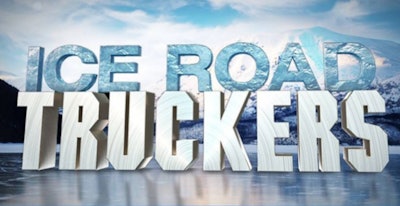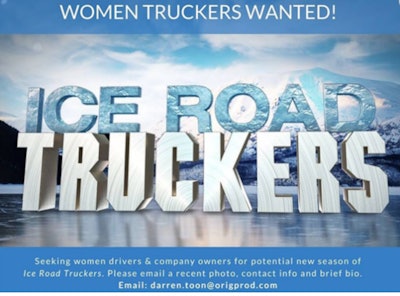 It's understandable if fans of Ice Road Truckers are getting their hopes up for a return of the long-running reality show as a casting call meme is making the rounds of social media. And, even more so for women truckers who have Hollywood hopes of their own.
However, the creators of the show that ran on cable TV for 11 seasons and 138 episodes say, "Not so fast …"
The meme from Darren Toon at Original Productions, bearing the bold Ice Road Truckers logo, said:
Casting Call
We are looking for women truck drivers and/or truck company owners who may be interested in being on a new season of Ice Road Truckers. We are currently looking to identify new main characters and story-lines for a potential next season of the show.
DRIVERS:
We are looking for big characters, tough, some bad weather driving experience, age 30s-50s.
TRUCK COMPANY OWNERS:
Loud, tough, good leaders, experienced, ready to take over new, age 40s-50s.
Anyone interested can email me directly with their NAME, RECENT PHOTO, DRIVING EXPERIENCE, and CONTACT INFO.
I have attached a simple flyer for easy forwarding and posting. Thanks in advance for any assistance, and let me know if you need any more info.
However, when we contacted Toon and ask if it meant a reboot of Ice Road Truckers was in the works, he said, "There is no reboot to speak of just yet. At the moment, we are just in the development phase. Hopefully, we'll find some great characters to warrant a new season."
Ice Road Truckers debuted June 17, 2007 and ran until Nov. 9, 2017.
Over the years, it made household names out of truckers including Alex Debogorski, the only cast member to have been on the show for its entire run. Other fan favorites were Lisa Kelly, Todd Dewey, and Darrell Ward, who died in a plane crash in August of 2016.