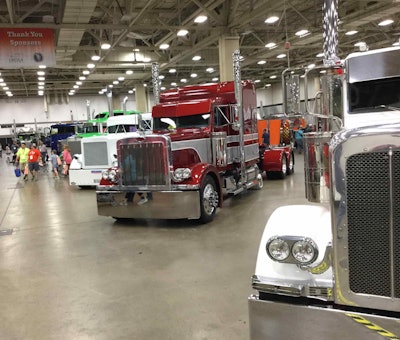 The 20th edition of the Great American Trucking Show opens today at noon at the Kay Bailey Hutchison Convention Center in Dallas and runs through 4 p.m. Saturday.
Highlights of the show today
Commercial Carrier Journal Editor Jason Cannon will lead the panel "The Driver's Role With Driverless Trucks" at 3:15 p.m. on the Overdrive Stage in Hall "D". Fully self-driving trucks may be several years away, but autonomous technologies are already being deployed that change the role of the driver. Two players in the space, Pronto and Starsky Robotics, apply different approaches but share a vision of supporting America's hard-working drivers, increasing safety for all road users. Differing autonomous strategies will impact drivers in unique ways and this discussion with representatives of both companies will set context around the current state of the technologies and look ahead to what the future holds for the industry and the men and women responsible for moving it forward.
Representatives from the Federal Motor Carrier Safety Administration Joe DeLorenzo and Bill Mahorney discuss ELD implementation and transition, the Drug and Alcohol Clearinghouse and other regulatory issues at 3 p.m. on the Truckers News Stage in Hall "A".
Carolyn O'Byrne presents 9 Strategies Toward Better Physical and Emotional Health at the Landstar Health and Wellness Pavilion at 2 p.m.
Attractions throughout the three days of the show
If you're in the market for a new job or are interested in getting into the profession, GATS can give you a leg up. Recruiters from numerous major carriers will be on hand in the Jobs Pavilion and when you register for GATS online, you can fill out a form to match you with carriers in search of your specific job skills.
Show attendees have the opportunity to see a variety of new and current products and technology in the Featured Product Pavilion. The pavilion showcases products including ELDs, telematics systems, equipment for trucks, products for drivers and more. The Featured Product Pavilion is located in the Lower AB Lobby, and is available for viewing prior to the show start time each day.
GATS takes on one of the leading issues in trucking today: driver health. The Landstar Health and Wellness Pavilion offers a combination of exhibitors doing free or reduced-price health screenings and informational programming on its stage. Highlights include a blood drive, reduced cost CDL physicals, and a mobile mammography bus.
The latest models from several truck manufacturers will be on display at the show's New Truck Pavilion. Added to show this year, the pavilion includes a dozen 2020 models from Peterbilt, Kenworth, International, Mack, and Volvo.
It just wouldn't be a truck show without some hot custom trucks. GATS delivers the hottest of the hot with Overdrive's Pride & Polish competition. Awards will be handed out Saturday morning.
Red Eye Radio hosts numerous performers and celebrities at their booth in the lobby. See the complete schedule.
Looking ahead to Friday
Ray Martinez, head of the Federal Motor Carrier Safety Administration will be at the show to hear from truckers about what they think of his agency's proposed hours of service changes. That listening session will be at 10 a.m. Friday, Aug. 23, in the lower "C" meeting rooms, room number C146.
Truckers News will announce the winner of the 2019 Mike O'Connell Trucking's Top Rookie Award Friday at 2 p.m. on the Truckers News Stage in Hall "A". The winner takes home $10,000 and a slew of prizes from the RoadPro Family of Brands and Rand McNally
GATS features the finals of the Overdrive and Red Eye Radio Trucker Talent Search singing contest. The three finalists compete on Friday at 3:30 p.m. on the Truckers News Stage in Hall "A"
Australian country star and singer/songwriter Jayne Denham will rock GATS with the release of her new single, "Black Coffee and White Lines" at the Red Eye Radio Booth Friday at 5:30 p.m.
Show hours are:
Thursday, Noon to 5 p.m.
Friday, 10 a.m. to 5 p.m.
Saturday, 9 a.m. to 4 p.m.
There's still time to register for free online.
To get the most out of GATS, be sure to get the app for your smartphone.
There are no truck parking problems at GATS. The free TA Petro Truck Parking Community not only gives you a space for your rig, it provides a variety of services, programs, food, music, and entertainment. There's even a dunking booth … no really! There are frequent shuttles to and from the show.