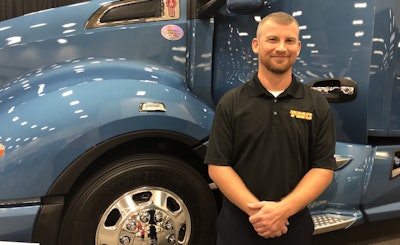 U.S. Marine Corps veteran Christopher Bacon learned skills in the military that have had a direct impact on his success as a truck driver, he says.
Bacon, of St. Louis, drives flatbed for TMC Transportation. He is one of four finalist up for the 2019 Transition Trucking: Driving for Excellence award, which recognizes rookie truck drivers who are veterans.
The winner will be announced Dec. 6 during a ceremony at the U.S. Chamber of Commerce. The winner will receive a fully-loaded Kenworth T680, the runner-up will receive $10,000, and the other two finalists will each receive $5,000. The truck has a PACCAR MX-13 455-horsepower engine and a 76-inch high roof sleeper with driver studio.
The award is a partnership between Fastport, the U.S. Chamber of Commerce Foundation's Hiring Our Heroes initiative, and Kenworth.
Bacon joined the Marines in 2007 and deployed to Iraq in 2008 and Afghanistan in 2009, serving as an infantry assaultman. After being honorably discharged in 2010, Bacon worked as an automotive technician and service advisor before deciding to follow in this grandfather's and great grandfather's footsteps and pursue trucking so that he could see the country.
In the Marines, Bacon sometimes drove trucks with heavy equipment and he has experience driving Humvees and MRAP vehicles. When he got into a semi for the first time it felt familiar.
"Sitting up there and driving it, it brought back some familiar feelings the first time I climbed in," Bacon said.
Bacon likes the freedom and solitude of trucking, which are common selling points for veterans interested in trucking. Your numbers and your progress speak for how well you're working, Bacon says.
"I like the idea of being able to run things kind of like a small unit would and making things work for you. You don't have somebody else telling you what to do," Bacon said. "Not that I have a problem with taking orders, it's just that where you can improve you're able to when you're the one in charge."
The military and trucking lifestyles have a lot of overlap, Bacon says. You have to be adaptable.
"When you're out on the road it's kind of like in the military when you're out on the field. It's a little bit more primal because you don't have all of the accommodations that you do at home or in the office; you don't have a bathroom all of the time. You may not even get a shower every night, but you're familiar with living that type of lifestyle and making it work for you," Bacon said. "Even though I may not have a shower every night, I can still take care of myself. Whereas somebody that's never gone without a shower will go without a shower and go, 'I don't know what to do'."
Bacon says he wouldn't hesitate to recommend trucking to his fellow veterans.
"Veterans have that core discipline that I think a lot of truckers need, that they get from basic training and their experience in the military, and that civilian truckers that never served in the military sometimes lack," Bacon said. "I don't want to say all of them, but it's definitely not instilled from a separate source."
Bacon and his wife, Melissa, own country property and that's where he likes to spend his home time. He enjoys hunting, fishing, and taking out his four-wheeler.