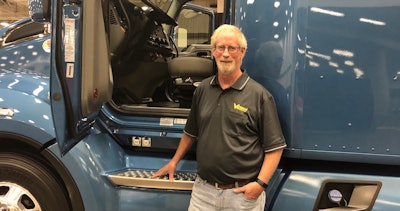 U.S. Navy veteran and truck driver Wade Bumgarner dedicates his time to helping transitioning veterans find employment and readjust to the civilian world.
Bumgarner, from Appleton, Wisconsin, grew up in a military family. His father spent 23 years in the U.S. Air Force and another 13 years in U.S. Customs. Bumgarner joined the U.S. Navy in 1976, serving as a signalmen until he was discharged, and then serving four additional years in the reserves. After exiting the military, Bumgarner worked in manufacturing. In 2014, he spearheaded the launch of an internship program for transitioning veterans at his former employer, The Manitowoc Company, where he was a recruiter.
"We put together a program for transitioning vets where we take them out of the service, we train them for six months, and they were paid internship wages that were supplemented by the Bay-Lakes Area Council. At the end of that six months now they have manufacturing experience on their resume and a legitimate experience to help them move along into the civilian world," Bumgarner said. "We hired every one of them. At the end of the six months we brought them on at our company at an engineer's wage level as an engineer with our company."
The successful program earned The Manitowoc Company the Large Manufacturer of the Year Award from both the American Legion and the Disabled American Veterans. Now as a truck driver for Veriha Trucking, where he has been for a little over a year, Bumgarner is still focused on veterans.
"I'm actually helping Veriha Trucking with building our military presence as much as I can because of my past experience," Bumgarner said. "I have a relationship already with the Department of Workforce Development Veteran Services from prior so I'm leveraging that a little."
Bumgarner is one of four finalists up for the 2019 Transition Trucking: Driving for Excellence award, which recognizes rookie truck drivers who are veterans.
There's a huge connection between the military and trucking, Bumgarner says.
"It's everything that the military is. It's loyalty. It's dedication to service. You need to be on time. You need to be responsible. You need to be away from home a lot. It's a hard life. The military is almost a proving ground for trucking," Bumgarner said. "Every time I grab a load I'm going out on a deployment for a week. Every time I pick one up to deliver it to a customer, it's a mission that I have to accomplish. It's a tailor-made fit for transitioning veterans."
When he isn't trucking or helping transitioning veterans, Bumgarner performs locally in a band called Izzy and the Scarecrow and spends time with his wife, Carol, and their family.
The Transition Trucking: Driving for Excellence winner will be announced Dec. 6 during a ceremony at the U.S. Chamber of Commerce. The winner will receive a fully-loaded Kenworth T680, the runner-up will receive $10,000, and the other two finalists will each receive $5,000. The truck has a PACCAR MX-13 455-horsepower engine and a 76-inch high roof sleeper with driver studio.
The award is a partnership between Fastport, the U.S. Chamber of Commerce Foundation's Hiring Our Heroes initiative, and Kenworth.