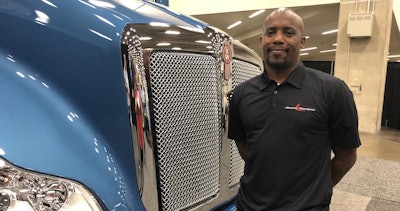 As a former U.S. Marine and corrections officer, Steve Harris is no stranger to hard work.
Harris, of Atlanta, Georgia, attended the Army Mountain Warfare School immediately after graduating high school and, upon completion in 2002, joined the Marines. He was deployed to Iraq, Syria, and Afghanistan, and received the Combat Action Ribbon. Following his deployments, Harris worked as a corrections officer in Georgia for a year.
He wanted more freedom and flexibility in his job, so he turned his talents to trucking. He's always been a free-spirited and independent person, and he credits Smokey and the Bandit for sparking his interest in trucking. He now drives for Stevens Transport.
"Growing up in the city you never think of driving trucks or anything like that. It's just sports, military, or whatever, so I just decided I would give it a try and I have been pretty successful with it," Harris said.
Harris is one of four finalists up for the 2019 Transition Trucking: Driving for Excellence award, which recognizes rookie truck drivers who are veterans. The winner will be announced Dec. 6 during a ceremony at the U.S. Chamber of Commerce. The winner will receive a fully-loaded Kenworth T680, the runner-up will receive $10,000, and the other two finalists will each receive $5,000. The truck has a PACCAR MX-13 455-horsepower engine and a 76-inch high roof sleeper with driver studio.
The award is a partnership between Fastport, the U.S. Chamber of Commerce Foundation's Hiring Our Heroes initiative, and Kenworth.
Harris doesn't think there's much difference between the military and trucking. Honor, courage, and commitment are values of the Marine Corps, and Harris says he sees those same values reflected at Stevens Transport.
"You have to have honor within yourself and commitment to get where you need to on time safely to your destination. You have to be committed to get the job done," Harris said.
Harris ultimately wants to start his own trucking company as an owner-operator, and plans to seek advice from his team at Stevens Transport.
"I don't want to find out how to be successful. I want to find out the failures so I don't make those mistakes," Harris said.
Harris' advice to veterans interested in trucking is "to be themselves and be humble."
During his home time, Harries travels to North Carolina to visit with his two daughters.
"We're either going shopping or playing dress-up with my daughters," Harris said.