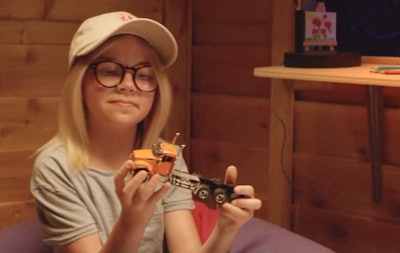 It's been quite a week, and there is still one day left to go as the trucking industry celebrates National Trucker Driver Appreciation Week.
Since it began on Sunday, Sept. 8, the week has been filled with recognition, thank yous, creative videos, free shirts and caps, drawings, and no small amount of food.
Kenworth's contribution to the week was a touching, three-minute video showing a girl and her dad shopping for the materials and then building a treehouse. Along the way, they encounter several Kenworth trucks, including one being driven by a woman. (See the video below.)
To commemorate the week, Acuity Insurance sponsored an essay and video contest for high school students in which students submitted stories displaying their knowledge of the issues facing truckers and the trucking industry while thanking drivers for what they do. A total of six winners were named:
First prize, $2,500: Sara Mears, Appleton, Wisconsin
Second prize, $1,500: Gibeon Robbins, Coalville, Utah
Third prize, $1,000: Ashlyn Smith, Marion, Utah
Honorable mention, $150: Gabrielle Robbins, Coalville, Utah
Honorable mention, $150: Jimmy Fields, Orland Park, Illinois
Honorable mention, $150: Karmyn Jarzemski, De Soto, Wisconsin
Owner-operator financial services provider ATBS is giving away a truck driver appreciation prize package to a grand prize winner, and two $50 gift cards to two runners-up. For a chance to win, the company asks drivers to fill out their name and email address here. Everyone who enters will receive ATBS' free Owner-Operator Roadmap to Success e-book. The prize package includes a $50 Amazon gift card, ATBS RTIC tumbler, Trucker's Friend Demolition and Multitool, a seat massager and work gloves.
Freight-matching service 123Loadboard is handing out 1,500 annual subscriptions to drivers valued at $1 million (subscriptions are $55/month) to honor drivers and celebrate the company's 15th anniversary.
While 2019's appreciation week is officially winding down, events recognizing drivers are not. The California Trucking Association said the Kern Unit Truck Driver Appreciation Day is Wednesday, Oct. 2 from 10 a.m. to 2 p.m. at the
Grapevine Enforcement Facility on Interstate 5 in Lebec. There will be free food and refreshments as well as driver safety information.
Not surprisingly, trucking's social media universe has been filled with recognition for truckers all week long. Take a look: