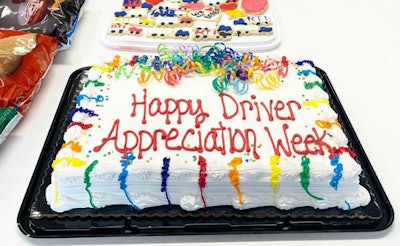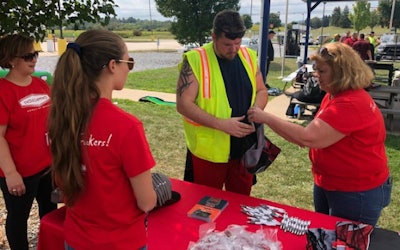 Folks from the RoadPro Family of Brands are visiting local travel centers in central Pennsylvania during National Truck Driver Appreciation Week handing out prizes and thanking drivers. RoadPro is also supporting several national events with product donations and giveaways conducted by organizations such as Swift Transportation, Trinity Logistics and the St. Christopher Truckers Relief Fund.
RoadPro's Facebook page will host several campaigns that give followers an opportunity to create their own Thank You card and share it. Members of RoadPro's Brake Time community will be rewarded with $10 worth of RoadPro Rewards points and a special gift via mail.
"We know that the 3.5 million professional drivers throughout the country work hard for us every day," said Chuck White, VP of Brand and Marketing, "And without them we would not have stocked shelves, comfortable homes and all the other things we tend to take for granted. We want to say thank you not only during this week, but and all year long for their commitment and dedication to moving America forward."
Free lunch in Arkansas Thursday
The Arkansas Trucking Association will once again show its appreciation for truckers by inviting drivers traveling along Interstate 40 to join them at the TA Petro Stopping Center for a free hot lunch, refreshments, and games Thursday, Sept. 12.
Arkansas Trucking Association President Shannon Newton said, "National Truck Driver Appreciation Week is an annual opportunity to thank the men and women who deliver a way of life for Americans. Beyond the food for our tables, life-saving supplies for hospitals, computers on our desks and in our pockets, truck drivers deliver opportunity to communities big and small around our nation. We are so grateful for the drivers who shorten the distance between us and all the things that help us grow, heal, learn, work, play and thrive in our lives."
Others in the trucking industry added their thanks to drivers:
Marc Althen, president of Penske Logistics: "Our drivers provide a vital service and play a key role in our success. I wish each a safe and enjoyable National Truck Driver Appreciation Week."
Judy R. McReynolds, ArcBest chairman, president and CEO: "All of us depend on truck drivers to deliver goods, and I'm proud to recognize the efforts of our ABF Freight drivers and Panther owner-operators, as well as all of our contracted carriers. Our professional drivers provide a great customer experience and deliver excellence every day."