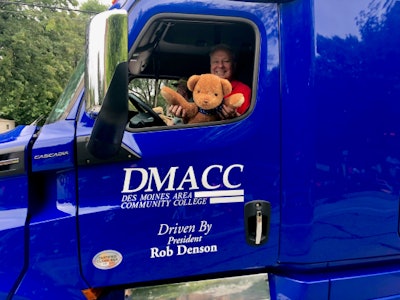 Most college presidents have PhD tacked onto their names, showing they logged the years of extra study and done the often arcane research necessary to earn a doctorate degree.
Fewer are those who have "JD" appended to their names. It signifies they earned a Doctor of Jurisprudence degree and are lawyers. Rob Denson, president of Des Moines Area Community College in Iowa, is one such educator/lawyer.
But Denson, also has another certification of which he is equally proud: CDL.
Yes, the man who oversees the six campuses and a transportation institute in and around Des Moines, Iowa not only holds his commercial driver's license, he puts it to good use. Summers finds Denson driving a tractor-trailer in numerous community parades throughout Iowa to promote DMACC's programs.
It's obvious Denson enjoys this unique part of his job, a role that reconnects him to his boyhood on an Iowa farm and work in summers past that provided money for college. Denson says he has driven a college-themed tractor-trailer in more than 300 parades since joining the college almost exactly 16 years ago.
"This is a great way to market the college," said Denson, whose institution is often a stop on the presidential campaign trail as Iowa holds its caucuses. "I think it means something to the community to see me driving."
Denson is usually joined in the truck by his wife Pat and one or more of their five grandchildren. There is always a large stuffed bear in the cab as DMACC's sports teams are known as the Bears. This past parade season Denson was at the wheel of a leased 2019 Freightliner Cascadia put to a flatbed with a large sign promoting DMCAA's programs.
The driving, says the 72-year-old Denson, is a direct link back to the family farm in Homestead, about 20 miles northeast of Iowa City in the eastern part of the state. He said it was a typical family farm for its time: 600 acres, 13 dairy cows milked by hand, a few Angus beef cattle, some feeder pigs, and fields of corn, soybeans and oats.
He says he still recalls the day his grandparents sold their workhorses and bought their first tractor. Like any good Iowa farmboy, Denson was on a tractor at an early age. He was 10 when he drove a tractor for the first time, and says he loved to plow and disc the fields.
And, it was during those days Denson started his truck driving career. He says he started at the age of 16 making deliveries for a local feed mill, graduated to feed trucks and eventually a semi. He adds that he would eventually drive on the weekends and summers to earn money for college.
Denson started at Iowa State University with the intent of becoming a veterinarian. He switched to study political science and economics and wound up working in higher education in Iowa and Florida. Instead of chasing an advanced degree in that field, Denson went to law school. He'd spend time in a college legal department before opening his own practice in Jacksonville, Florida.
While a lawyer, Denson enrolled in a Florida driving school and got his CDL. He says it didn't take long for the skills learned as a young man in Iowa to return and by his second day he as teaching fellow students how to back their trucks.
Denson says he eventually closed his legal practice and retired, but like so many people, he got bored and went back to work. He was named the president of Northeast Community College in Calmar, Iowa in 1998. He joined DMACC in 2003 as its fourth president.
DMCAA, which has some 25,000 students at its various campuses, offers truck driver training at its 14-acre Transportation Institute. The school is certified by the Professional Truck Driver's Institute and offers six-week day classes and 12-week classes offered in the evening.
And, the program has no bigger booster than Denson, whose brother was a professional driver for Amana for some 40 years.
"I started out as a truck driver and became a college president," says Denson. "That's a great career path. Once you get semi driving in your blood, it's in your blood. It's a good life and a great way to raise a family."