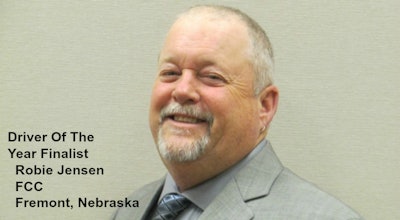 Editor's Note: This is the first in a series of profiles of the three finalists in the Truckload Carrier Association's 2019 Company Driver of the Year Contest presented with Truckers News and sponsored by Love's and Cummins. The other two finalists will be profiled in the coming days and the winner will be announced at TCA's annual convention in Kissimmee, Florida early next month.

___
One could come to believe something was amiss if Robie Jensen did not become the successful professional truck driver he is today.
His grandfather was a trucker. So was his father, and that meant riding along and learning from him firsthand. That helped set the stage for a long trucking career that led him to spend the last 23 years and some 3.5 million safe miles driving for FCC (Fremont Contract Carriers), a fleet with just shy of 400 drivers based in Fremont, Nebraska.
The younger Jensen's plan was to graduate high school and begin his own career on the road, but the federal government had other ideas when it raised the legal driving age to 21. But, Jensen's Plan "B" seemed to be a good one as he enlisted in the Army. There he learned many of the skills, habits and outlooks that would set him up for success on the road. But, just when he was to rejoin civilian life, the feds upped the interstate driving age to 23, so Jensen reenlisted.
His second hitch found him driving a tanker through much of northern Europe in support of NATO, experience that would stand him in good stead when he got out of the service and was of an age to start driving cross-country. It was also while he was stationed in Germany, where he met and married his wife of 35 years, Annett.
"I told her, I'm a trucker and nobody's going to change that," said Jensen, now 55 years old. So, his new bride got her introduction to the U.S. by riding along with him.
Jensen and trucking have changed quite a bit from his earliest days on the road.
"When I got into (trucking) it was all 'old school'," he said. "It was, 'Here's the keys. There's the truck. Deliver that load.'" and there were few questions asked.
Over the years, Jensen said he and the industry became much more concerned about safety. A serious revelation occurred to him with the birth of his son, Jaksen. "I had to start being more careful because I realized now I've got to take care of my family."
Like many of his contemporaries, Jensen laments the changes in the industry and those who drive for it.
"I still find it enjoyable," said Jensen, who grew up in Carol, Nebraska, population 240. "But the quality of drivers is not like it was in the old days. They get in fights on the CB. Nobody moves over. They think it's a job, and it's not a job, it's a way of life. You have to be comfortable in your cab, and be prepared to be gone a lot. Still, I think it's a good job."
And, it's one he takes seriously.
Jensen, who drives for FCC's dry van division, also takes his health and wellness — and food — seriously. The 'fridge on his truck is filled with pre-prepared meals, healthy snacks and plenty of water. He said those snacks are important to keep his metabolism steady, and they also help fight off the urge to grab a less healthy between-meals goody when he stops for a break.
Jensen has also created healthy recipes, several of which have been published in fundraising cookbooks, and happily shares them with other drivers.
But, Jensen's commitment to wellness doesn't end at the end of a fork. When he made the shift from FCC's physically-demanding flatbed division to dry van, Jensen adopted a daily exercise routine.
"Thirty minutes of cardio a day does wonders," he said. "It makes you feel instantly better and gives you energy and mental alertness for the day."
He said he always parks at the far end of the lot wherever he parks and looks for walking or hiking trails. His fitness routine also includes daily stretching and exercises using the in-cab workout system created by Rolling Strong.
When not on the road, Jensen is involved in his community. He helps build houses for those in need as part of Habitat for Humanity, and he uses his cooking skills to provide meals at local shelters.
When much of the Midwest was inundated by floods last spring, Jensen opened his home to those who had lost theirs. He also provided much-needed relief supplies. Jensen is equally generous with local refugee relief efforts.
His personal generosity, on-the-job performance, and commitment to helping other drivers has not gone unnoticed. Ann Dostal, FCC's vice president for safety said of him, "Robie's overall professionalism, work ethic, and outgoing personality make him a great asset and ambassador for the trucking industry."
The other 2019 Company Driver of the Year Contest finalists are:
Randy Kuryk of Winnipeg, Manitoba, who drives for Bison Transport also of Winnipeg, Manitoba, Canada

Don Lewis of Republic, Missouri, who drives for Wilson Logistics of Springfield, Missouri
2019 Owner-Operator of the Year Contest finalists are:
Jesse Dennis of Springfield, Missouri who is leased to Prime Inc. also of Springfield, Missouri

Kevin Kocmich of Litchfield, Minnesota, who is leased to Diamond Transportation System, Inc. of Racine, Wisconsin

Robert and Tracy Roth of Coldwater, Ontario, who are leased to Erb International of New Hamburg, Ontario, Canada
Both awards are sponsored by Love's and Cummins.
The winners will be announced at TCA's 2020 Annual Convention, March 1-3 at the Gaylord Palms in Kissimmee, Florida. Winners receive $25,000 each and the runners up receive $2,500.
The top six finalists were selected based on their demonstrated ability to operate safely on public highways, their efforts to enhance the public image of the trucking industry, and their contributions to their local communities.
"Randall-Reilly and its Overdrive and Truckers News brands are proud to honor these drivers who represent the finest men and women in the truckload industry," said Randall-Reilly's Director of Trucking Sales Emily Larson. "Our nation's highly-skilled professional drivers don't get enough credit, so we're happy to partner with TCA and our sponsors on this program."