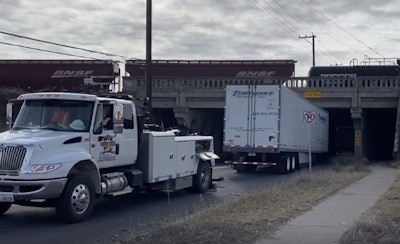 Hardly a week goes by when social media doesn't light up with images or a video of some poor trucker who for some reason most likely known only to them, figured a 13′ 6″ trailer would fit under an 11′ 6″ bridge. Or, maybe they just didn't see the signs. Or, maybe Google maps said, "Go ahead, pal, nothing to worry about …"
Similar events in New York recently prompted that state's governor to threaten steeper fines and jail time for truckers who wander onto parkways and/or strike bridges. It also prompted senators from that and several other states to demand GPS app makers to include more truck-specific details.
Whatever the reason, the latest tuck vs. bridge event occurred in Spokane, Washington Wednesday, Feb. 26. And, it's no surprise that the good folks of Spokane and thereabouts had plenty to say about the mishap. Here's a sampling:
Becky Hansen:
They are responsible for knowing their route and their own height. If not they shouldn't be driving
Tim Mackin:
Know your route and your specs … this guy is an idiot.
Stephanie R Anderson:
If I had a dollar for every time this happens… I could probably retire at the ripe age of 31.
Brandon Secor:
How long before one of these collapse on someone for someone else's negligence? They can't take too many more hits before becoming structurally unsound.
Kathrin Bratchikova:
Okay … I'm in a relationship with a truck driver so, I know the ropes a little. Honestly, I gotta say this guy is an idiot. That trailer is 13'6″ tall.. The bridge's maximum clearance is 12″ and the posted clearance is 11'8″(referring to the list of bridge clearances in Spokane) … I don't know why the hell he thought he would fit. He might have been a daycab or someone with a truck low enough to go through but completely forgot that he has a trailer in the back that isn't.
Belial Bathory:
There is an app to avoid that ya know …
Steve Uht:
Tape measures are easily purchased at a hardware store near you.
Mary Cameron:
They need to put sensors and light(s) to prevent this.
Brett Kienitz:
(W)
ish I was a fly on the wall in the office when this poor driver has to explain himself to the front office … haha.
Susan Davidson:
Maybe the sign needs to be bigger or put a pole that's a measuring stick. Lmao