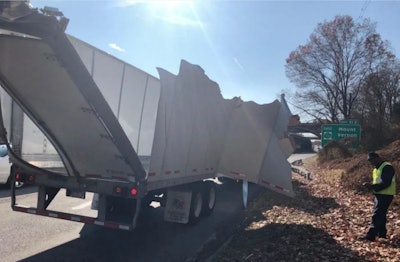 An unidentified truck driver Tuesday morning, Nov. 26, found out the hard way that tractor-trailers don't belong on the parkways of suburban New York City.
Apparently using a personal GPS and not one designed for commercial vehicles, the trucker got on the Bronx River Parkway in Westchester County and before long sheered the roof off their trailer trying to drive under the Cross County Parkway overpass.
The mishap occurred at about 11:30 a.m. about 25 miles north of New York City. No injuries were reported but the parkway was closed for several hours, according to the Armonk Daily Voice.
Trucks and other large commercial vehicles are prohibited on most New York City area parkways.
Tuesday's wreck is not an uncommon occurrence. Since 2015, it's reported there have been more than 600 such strikes, prompting the state to invest some $25 million in technology to warn truckers and police of imminent danger.