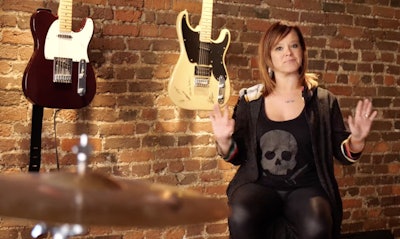 When you do your trip planning for Wednesday, March 25, you ought to coordinate your driving so you're parked for the night or at least for a break at 7 p.m. Central Time.
That's when one of trucking's biggest musical supporters and a couple of singer-songwriter pals are going to perform live to send a little love out to all professional drivers in these demanding days.
Lindsay Lawler, singer-songwriter and spokesperson for the Truckload Carrier Association's Highway Angels driver recognition program, will perform a concert that to be streamed live from the Nashville Music Loft on YouTube. She'll be joined by her longtime collaborator and Grammy nominee Chris Roberts and another Nashville singer-songwriter Kevin Post.
Lawler said many Nashville musicians are not traveling or performing in clubs or in concert because of the COVID-19 coronavirus sanctions. The three will perform their own music, as well as some trucker songs and even take requests. This, she said, is a way for the three of them to "creatively spend some downtime while showing our appreciation for truckers."
Appreciating truckers is something Lawler knows all about. She has written two songs — Highway Angel and I Drive — that can only be considered anthems for the men and women who drive.
I've had the pleasure of seeing Lawler and Roberts perform in several diverse venues over the last few years. Each was enjoyable and memorable.
It was July of 2016 when Lawler took to the outdoor stage at the Iowa 80 Truckers Jamboree. Her set was the only thing hotter than the July sun that weekend. No shade, sitting on hay bales, the crowd was totally into Lawler's performance, and not just because of her music. Lawler's stage presence made the audience feel included, part of a happy musical conspiracy.
Afterward, the line for autographs and merch was long and enthusiastic.
About 180 degrees opposite of that day in the parking lot of "The World's Largest Truck Stop" was the night Lawler, Roberts and a couple of other Nashville singer-songwriters were the evening's entertainment at the closing banquet of the TCA's 2019 annual convention at the Wynn Las Vegas resort. Perched on stools on the Wynn's stage, Lawler and company sang, played, riffed, laughed and entertained the thoroughly smitten crowd of trucking execs.
Aside from performing, Lawler played emcee and set up her fellow performers who provided insights into the art and craft. It was a truly enlightening evening.
But, Lawler may have been at her best when she performed at the TA Petro Citizen Driver luncheon at last year's Mid-America Trucking Show. She belted out, I Drive, a song that perfectly captures the "why" behind what professional drivers do, a tune perfectly suited for these days when so much is being asked of truckers.
Powerful. Emotional. Honest. I Drive, and the way Lawler delivers it, ought to lift a few sagging trucker spirits Wednesday.
Wednesday's live stream begins at 7 p.m. Central time and can be seen on the Nashville Music Loft page. It will also be recorded for later viewing on YouTube.