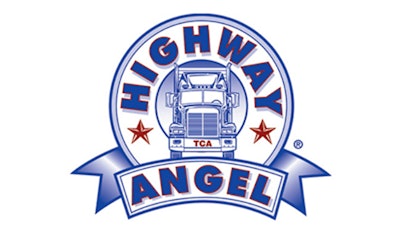 Bad winter weather didn't stop one trucker from helping victims of an accident, and for that, he's being honored by a national trucking organization.
The Truckload Carriers Association recently named Steven Marcy from Tinley Park, Illinois, a Highway Angel, for stopping to help at the scene of a collision between a tractor-trailer and passenger van.
TCA explains the circumstances:
It was a cold and blustery November day and Steven Marcy was southbound from Indiana on his way to Nashville, Tennessee. The blowing snow was limiting visibility and the roadway was becoming icy. The temperature was below zero. Already driving well under the posted speed limit, the poor visibility forced Marcy to slow to a stop. That's when he saw a tractor-trailer up ahead of him, sitting across both southbound lanes. The driver had lost control and a full-size passenger van had hit the side of the trailer. Acting swiftly, Marcy set his brakes, turned on his flashers, and rushed to the scene. The driver of the van was disoriented, and his wife was in the passenger seat, unconscious. The driver of the truck came over to check on the passengers. Another motorist stopped to help and began to gather blankets to warm them.
The van had bounced off the trailer and was sitting at a 45-degree angle to the truck. The van's driver was disoriented and upset at the truck driver for causing the accident. Marcy distracted him by urging him to call 911 for an ambulance. He then worked to squeeze into the wreckage to check on the passenger. "They hit hard," said Marcy. "The passenger was knocked unconscious and was slumped to the left over the console and bleeding from her head and mouth." As the woman regained consciousness she asked what had happened and said her back was hurting. "She was slumped over in a crooked position out of her seat with her seatbelt on," said Marcy. He helped her to sit upright and then held her in place, assuring her help was on the way. He stayed with her, talking to her and offering her comfort until EMTs arrived about 27 minutes later. Marcy says he's come across many accidents in the 18 years he has driven for ABF Freight System, Inc. and is happy he was able to help that day.
For his willingness to assist his fellow drivers, TCA has presented Marcy with a certificate, patch, lapel pin, and truck decals. His employer has also received a certificate acknowledging their driver as a Highway Angel.
Since the program's inception in August 1997, more than 1,250 professional truck drivers have been recognized as Highway Angels for the exemplary kindness, courtesy, and courage they have displayed while on the job.
EpicVue sponsors TCA's Highway Angel program.