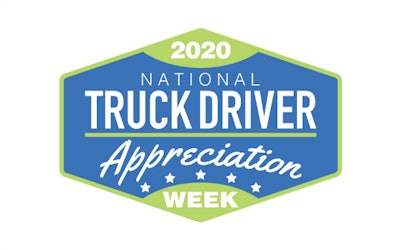 The California Trucking Association, in partnership with the California Highway Patrol, the California Governor's Office of Emergency Services and members of the trucking industry, is staging a celebration of National Truck Driver Appreciation Week.
CTA is marking the week with a number of events across the state, providing truckers with a drive-by lunch and personal protective equipment packages to ensure drivers continue doing their job safely while keeping California's supply chain moving.
"As the negative effects of COVID-19 were felt in all communities across the state, our professional truck drivers stepped up," said Greg Dubuque, president of CTA. "Despite facing unprecedented obstacles, including an initial shortage of personal protective equipment, the men and women of the trucking industry rose to the occasion and were there when we needed them the most, working tirelessly to keep store shelves stocked and other goods moving to those in need."
Through a partnership with the California Governor's Office of Emergency Services, CTA said it has distributed hundreds of thousands of masks, face shields, and more than a thousand gallons of hand sanitizer to members of the trucking community.
TA Services thanks truckers during Appreciation Week
Mansfield, Texas full-service logistics provider TA Services is honoring truck drivers during National Truck Driver Appreciation Week. TA Services office locations nationwide is providing gift packages, refreshments, and catering in recognition of the drivers. Follow TA Services on Facebook to see the company's giveaways and celebrations throughout the week.
TA Services celebrated its 34th anniversary in May. Its four main service lines are managed transportation, warehousing and distribution, brokerage, and cross-border services.
Port Manatee welcomes truckers Friday with food and gifts
Port Manatee, one of Florida's largest deepwater seaports located in the eastern Gulf of Mexico will honor truckers Friday, Sept. 18.
This year's event, like so much in today's world, will look a bit different than ones in the past. Instead of enjoying a picnic-like atmosphere, drivers approaching the port's main gate complex on Friday between 11 a.m. and 2 p.m. will be welcomed by masked volunteers bearing gifts.
The drivers will be handed prepackaged lunches from Popi's Place along with event tote bags filled with gift items including T-shirts created for the day, protective masks bearing the event motif, and specially branded containers filled with hand sanitizer. Also in the bags will be hats, earplugs, pens, notepads and calendars.