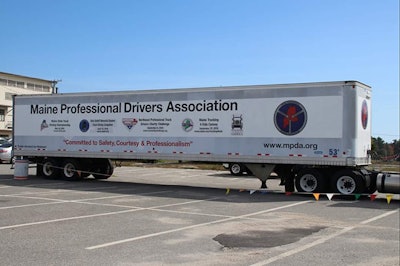 This year's Maine Professional Drivers Association's Trucking for Kids Convoy is set to roll at noon Sunday, Sept. 20. Lineup begins at 11 a.m. at Scarborough Downs in Scarborough.
Social-distancing guidelines will be followed at the event, and participants must wear face masks when outside their trucks. Also, in the interest of public health, this year's convoy will not include the usual raffles, driving competition, food booths or truck show, and there will be no restrooms available during the short convoy.
Proceeds from the annual event will benefit two organizations that provide services for children. Camp Sunshine offers a retreat free of charge for children who have life-threatening illnesses, along with their families. Camp POSTCARD (Police Officers Striving to Create and Reinforce Dreams) is a free week-long program for Maine kids. Counselors at Camp POSTCARD are volunteers from law-enforcement agencies around the state.
This year's convoy will be a combination live/virtual event. Participants can take part in the actual convoy or submit a photo of themself and their vehicle that can be posted on the event website.