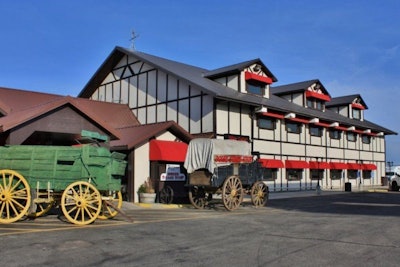 For many — if not most — truckers, Thanksgiving dinner will be eaten on the road and not at home.
But, several truck stops will use the holiday to show its appreciation of truckers.
As it has for the past 13 years, the Boise Stage Stop in Idaho will serve free Thanksgiving meals to any trucker on Thursday, Nov. 26. All you have to do is show your current CDL.
In addition to a traditional Thanksgiving dinner, there will be numerous merchandise giveaways to add to the festivities.
The Boise Stage Stop is located just off Interstate 84 about 25 miles southeast of Boise.
The Cowboy Cafe in Lyman, Wyoming will provide free Thanksgiving meals to truckers Wednesday, Nov. 25. The menu includes turkey, stuffing potatoes, cranberries, corn, dinner roll, and pie. They'll be serving until the food is gone.
The cafe is located at the Lyman exit of Interstate 80 in southwest Wyoming.
Pollard Flat U.S.A. in Lakehead, California also offers a free Thanksgiving meal from noon to 4 p.m. Thursday.
Because of COVID-19 restrictions, the traditional holiday meal has to be to go.
Pollard Flat is located off Interstate 5 on Eagles Roost Road in Lakehead.