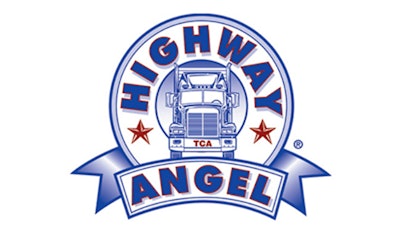 A California driver for TForce Logistics was recently recognized for coming to the aid of an elderly woman who collapsed into the street during a health emergency.
The Truckload Carriers Association named Christina Castillo, from Union City, California, a Highway Angel for her response several months ago.
TCA explains:
Castillo was driving down a residential street in Castro Valley, California on the morning of Oct. 1 when she saw an elderly woman walking along the sidewalk to the right of her. "She was staggering a bit, which caught my attention," said Castillo. "She was holding onto the fencing and stopped for a moment. Then she started walking again, so I figured she was okay."
Castillo continued on to make her delivery at a nearby school. That day, she happened to have another delivery on the same street and made a U-turn. She saw the woman again. "At that point, she took a few steps and then fell into the street," said Castillo. Acting swiftly, the driver turned around, put her hazards on, and positioned her truck in the roadway to divert oncoming traffic.
Castillo found the woman, in her late 70s, unresponsive. "It was staggeringly hot outside, in the 90s," she recalled. "I thought she had heat exhaustion. Her breathing was very shallow." Castillo called 911. She took her mask off and leaned in close to see if the woman was breathing. "COVID never crossed my mind," she said. "I just wanted to help her." The woman began to turn a bit blue. Castillo was prepared to do chest compressions, but the 911 dispatcher told her not to, that an ambulance was close by. "When the paramedics arrived, they gave her oxygen and her color started coming back and her vital signs were very strong," shared Castillo.
Castillo learned that the elderly lady had suffered a heart attack that day. A few days later, the family contacted her to let her know the woman had died. She did not have COVID-19. They told Castillo her actions that day gave them the opportunity to gather and be with their mother and grandmother in her last days.
Castillo and her husband are independent contractors with TForce Logistics, a third-party contracted with Office Depot/Office Max. Before becoming a driver, Castillo went to nursing school. She took a break to work with her husband as a driver.
TCA has presented Castillo with a certificate, patch, lapel pin, and truck decals. Her company has also received a certificate acknowledging their driver as a Highway Angel.
Since the program's inception in August 1997, nearly 1,300 professional truck drivers have been recognized as Highway Angels for the exemplary kindness, courtesy, and courage they have displayed while on the job.
The program is made possible by Presenting Sponsor, EpicVue, and Supporting Sponsor, DriverFacts.