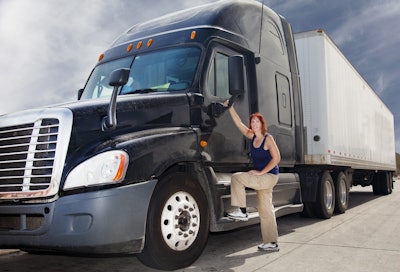 Legislation was introduced earlier this week that would help promote more opportunities in the trucking industry for women.
The Promoting Women in Trucking Workforce Act, sponsored by Reps. Mike Gallagher (R-Wisconsin) and Sharice Davids (D-Kansas) in the House and Sens. Jerry Moran (R-Kansas), Tammy Baldwin (D-Wisconsin), Deb Fischer (R-Nebraska) and Jon Tester (D-Montana) in the Senate.
The bills would, among other things, establish a "Women of Trucking Advisory Board" to better identify barriers to entry for women in the trucking industry. The board would be responsible for coordinating formal education and training programs, establishing mentorship opportunities for women in the industry, and enhancing outreach initiatives that are exclusive to women. The legislation also requires the FMCSA administrator to submit a report to Congress on the board's findings and recommendations.
Moran originally introduced legislation like this in November of 2019. It died in the Senate Committee on Commerce, Science, and Transportation.
Yesterday's reintroduction of the proposed legislation was met with praise by trucking interests.
ATA provided these letters in support of the legislation, citing the growing and rewarding career opportunities to be found in trucking as demand for drivers continues to intensify in the years to come: "With a median salary of $54,585, health and retirement benefits, and potentially thousands of dollars in signing bonuses, trucking provides a stable, good-paying career to Americans. Empowering women to thrive in an industry that provides significant compensation and benefits packages achieves the twin aims of improving gender parity and tackling the growing truck driver shortage."
Women in Trucking Association also praised the legislation.
"By creating an advisory board to utilize the expertise and resources of the Federal Motor Carrier Administration and the members of the board, we can increase the opportunities for women as drivers, technicians, owners, trainers and in other relevant career roles," said Women in Trucking Association President and CEO Ellie Voie. "Although women have strengthened their presence in (the) supply chain in the past few years, we know there are still issues that cause women to reject a transportation career. Our goal is to better identify these concerns and address them to create a more diverse industry. I look forward to working with you and your office in advancing this bill."
The Owner-Operator Independent Drivers Association weighed in as well.
"Working with Congress to make careers in trucking appealing, sustainable and successful for anyone who wants to enter our industry is a priority for the Owner-Operator Independent Drivers Association," said Owner-Operator Independent Drivers Association President Todd Spencer. "We support the Promoting Women in Trucking Workforce Act because it will not only help more women begin careers in trucking but will improve conditions for drivers currently behind the wheel. Some of the safest and most successful truckers on the road today are female members of OOIDA. We commend the sponsors of this legislation for ensuring their unique perspective and experience as small business owners will play an integral role in efforts to promote women in trucking."