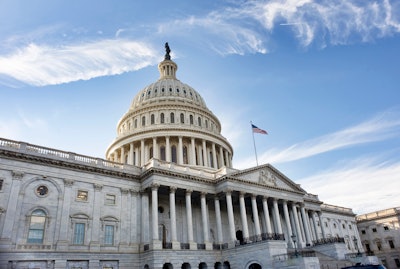 The U.S. Senate's $1 trillion bipartisan infrastructure bill announced last week contains numerous trucking-related provisions, such as requiring automatic emergency braking systems, improving underride guards, and establishing a CDL apprenticeship pilot program.
Notably missing from the Infrastructure Investment and Jobs Act, however, is a provision to increase carriers' liability insurance minimum from $750K to $2 million, a provision included in the House's infrastructure bill passed earlier this summer.
The Senate's bill also does not explicitly earmark funding for expanding truck parking capacity – the House bill did.
Senate Majority Leader Chuck Schumer (D-New York) plans for Senators to vote on the bill before the summer recess, which is scheduled to begin Aug. 9 but could be delayed, according to reports. The Senate is expected to start debating and amending the bill as early as today. It will face stiff challenges in the House, however, as Rep. Peter DeFazio (D-Oregon), chairman of the House Transportation and Infrastructure Committee, last week called the Senate's measure complete "crap," according to the Associated Press. Other public reports note DeFazio is pressing for a conference committee to resolve differences between the House and Senate measures.
Some notable trucking-related provisions contained in the Senate bill includes a measure to require a study of truck and bus crash causation, and:
Establish a Women of Trucking Advisory Board to encourage women to enter the trucking industry
Establish a Truck Leasing Task Force to study truck leasing agreements, including lease-purchase agreements
Require new commercial vehicles to be equipped with automatic emergency braking systems
Require improved rear underride guards on trailers and additional studies into side underride guards
Require a proposed rulemaking to amend certain regulations for household goods haulers
Require new emphasis on the inclusion of "small business motor carriers" in representation on the influential Motor Carrier Safety Advisory Committee
Require a report from DOT analyzing the cost and effectiveness of electronic logging devices and detailing the processes used by the Federal Motor Carrier Safety Administration to review ELDs and protect personally identifiable information obtained from ELDs, as well as detailing the process through which a carrier can dispute or appeal an ELD violation
Require clarification of the distinction between brokers and bona fide carrier agents, and to take a close look at dispatch services and the penalties for illegal brokering
Establish a CDL apprenticeship pilot program for under-21 CDL holder