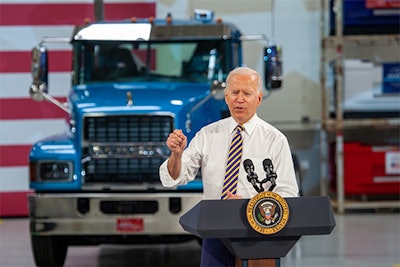 Mack Trucks
A sweeping, bipartisan plan to repair and improve the nation's infrastructure took a major step toward becoming reality Wednesday, July 28, when the Senate voted 67-32 on a procedural motion to send the agreement to the full Senate for a vote.
A bipartisan group of senators and the White House earlier agreed on the plan that includes $550 billion in new spending on transportation and other infrastructure.
The vote to seek the approval of the full Senate came on the same day President Joe Biden visited the Mack Truck assembly plant in Macungie, Pennsylvania to praise American manufacturing and announce changes in the government's "Buy American" program.
"This deal signals to the world that our democracy can function, deliver, and do big things," Biden said of the infrastructure deal. "... the bottom line is — the Bipartisan Infrastructure Deal is a blue-collar blueprint to rebuild America that will help make our historic economic recovery a historic long-term boom."
Here's how the bipartisan agreement allocates spending:
Transportation: $312 billion
Roads, bridges, major projects $109 billion
Safety $11 billion
Public transit $49 billion
Passenger and freight rail $66 billion
Electric vehicle infrastructure $7.5 billion
Electric buses/transit $7.5 billion
Reconnecting communities $1 billion
Airports $25 billion
Ports and waterways $16 billion
Infrastructure financing $20 billion
Other Infrastructure: $266 billion
Water infrastructure $55 billion
Broadband infrastructure $65 billion
Environmental remediation $21billion
Power infrastructure including grid authority $73 billion
Western water storage $5 billion
Resilience $47 billion
The American Trucking Associations praised the progress on infrastructure legislation.
"It's refreshing to see Congress do its job and address national problems facing businesses and families," said ATA President and CEO Chris Spear in a written statement. "Americans, and the hardworking men and women who carry this economy on trucks, have waited long enough for Washington to act on our decaying infrastructure. We cheer this bipartisan breakthrough and hope it helps elected officials find more areas where they can work together to actually get things done."