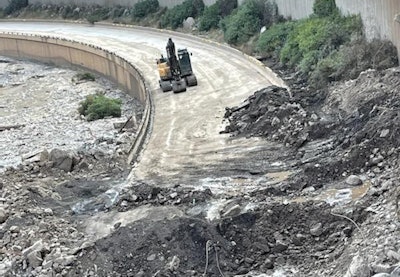 CDOT Photo
Progress continues to be made on cleaning up part of Interstate 70 in Colorado that was closed indefinitely by rock and mudslides late last month.
The Colorado Department of Transportation today said good weather allowed crews to do significant work over the weekend. However, detours remain in place and CDOT continues to suggest truckers avoid I-70 through the state altogether and take I-80 through Wyoming or I-40 through New Mexico.
A stretch of I-70 through Glenwood Canyon was closed after heavy rains July 31 caused flooding and rock and mudslides near the site of the scar left by an earlier wildfire. It was estimated that some 100 vehicles were trapped on the highway by the mudslides.
CDOT said crews removed 440 truckloads of debris -- each weighing about 13 tons -- from the closed section of the highway Saturday and Sunday, Aug. 6 and 7.
A CDOT engineering team was to conduct inspections today now that they have better access.
The state has declared this portion of I-70 a disaster and has requested $116 million from the federal Department of Transportation. The state asked for 10% of that amount to be sent as soon as possible.
Heavy rains fell last month in an area that had a wildfire last year. On July 29, between 2 and 4 inches of rain fell in an hour in Glenwood Canyon, which led to more debris flows onto the highway. A major overnight rainfall July 31 caused more slides and debris flows onto the highway.
The stretch of I-70 through Glenwood Canyon has long been an issue of concern for Coloradans, including those in the trucking industry. So much so that there have been discussions about, but no action on, creating a secondary route for use in circumstances such as the recent mudslides.
Writing in Colorado Politics today, Colorado Motor Carriers Association President Greg Fulton said the state needs to act sooner than later to create a detour around Glenwood Canyon.
"We commend CDOT for not only their extraordinary efforts toward reopening I-70 as early as possible but also broaching the issue of the need for a reasonable and safe detour around I-70 for those times when Glenwood Canyon is closed," wrote Fulton.
He says the state and federal governments ought to invest in improvements to Cottonwood Pass, a county route that would need to be upgraded to handle increased traffic.