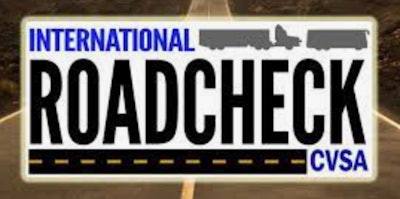 More than 40,000 commercial motor vehicle inspections were conducted May 4-6 during the Commercial Vehicle Safety Alliance's annual International Roadcheck. During the enforcement effort inspectors removed 6,710 commercial motor vehicles and 2,080 drivers from roadways across the U.S., Canada, and Mexico.
In the US:
19,786 commercial vehicles received Level I inspections
4,136 vehicles -- or 20.9% of those inspected -- were placed out of service
1,083 drivers -- or 5.5% of those inspected -- were placed out of service
Inspectors primarily conducted North American Standard Level I Inspections. Inspectors also conducted Level II Walk-Around Driver/Vehicle Inspections, Level III Driver/Credential/Administrative Inspections and Level V Vehicle-Only Inspections.
In Canada and the U.S., inspectors conducted 9,410 Level II Inspections and placed 1,593 (16.9%) vehicles and 549 drivers (5.8%) out of service. They also conducted 6,836 Level III Inspections and placed 331 drivers -- or 4.8% -- out of service.
Top Five Vehicle OOS Violations in the U.S. (out of 8,293 vehicle OOS violations)
Brake Systems 2,151 (25.9%)
Tires 1,643 (19.8%)
Lights 1,163 (14.0%)
Brake adjustment 1,051 (12.7%)
Cargo securement 956 (11.5%)
Top Five Driver OOS Violations in the U.S. (out of 2,477 driver OOS violations)
Hours of service 832 (33.6%)
Wrong class license 553 (22.3%)
Other 481 (19.4%)
False logs 411 (16.6%)
Suspended license 127 (5.1%)
Top Five HM/DG OOS Violations in the U.S. (out of 149 HM/DG OOS violations)
Loading77 (51.7%)
Placards 32 (21.5%)
Shipping p papers 23 (15.4%)
Markings10 (6.7%)
Other HM 7 (4.7%)
Decals Issued in the U.S.
Power units 8,489
Trailers 2,898
Buses189
Total11,576
Vehicles that pass a Level I or V inspection with no critical vehicle violations are eligible to receive a CVSA decal. Generally, vehicles displaying a valid CVSA decal, valid for up to three months, are not subjected to inspection.
Each year, CVSA highlights a category of violations during International Roadcheck to bring awareness to certain aspects of a routine roadside inspection. This year, inspectors captured data on two categories – hours of service and lighting.
There were 1,367 out-of-service lighting violations, accounting for 14.1% of all vehicle out-of-service violations. It was the third most-cited violation, after brake systems and tires. Out-of-service lighting device violations include headlamps, tail lamps, stop lamps, turn signals and lamps on projecting loads.
During this year's International Roadcheck, inspectors also checked safety belt usage during inspections and issued 773 seatbelt violations, including 4634 in the U.S.
CVSA's next inspection effort -- Brake Safety Week -- is Aug. 22-28. During Brake Safety Week, commercial motor vehicle inspectors emphasize the importance of brake systems by conducting inspections and removing from roadways commercial motor vehicles found to have brake-related out-of-service violations.