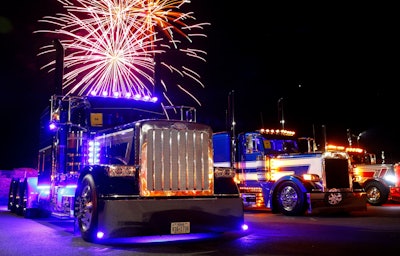 The COVID-19 pandemic has not been kind to truckers, the industry they serve, and the shows and other events that add to the profession.
In early 2020, just as the world was beginning to learn about the virus, the Truckload Carriers Association wrapped up its annual convention in Kissimmee, Florida, and organizers of the Mid-America Trucking Show were preparing for its annual event in Louisville. That year's MATS was first postponed and eventually canceled. MATS didn't happen in 2021either.
Even as the omicron variant of COVID drives the number of cases and hospitalizations higher, free online registration has opened for this year's MATS, and a celebration of its 50th show is planned. Organizers have COVID precautions in place.
Many other annual shows and trucking-related events are planned. Among the truck shows and industry events that have announced dates for this year are:
Work Truck Week, Indianapolis, March 8-11
Truckload Carriers Association annual convention, Las Vegas, March 19-22
Mid-America Trucking Show, Louisville, March 24-26
75 Chrome Shop Truck Show, Wildwood, Florida, April 22-24
Make-A-Wish Mother's Day Convoy, Manheim, Pennsylvania, May 8
East Coast Truckers Jamboree, Kenley, North Carolina, May 12-14
Great Lakes Big Rig Challenge, Onaway, Michigan, May 27-29
American Truck Historical Society annual convention, Springfield, Illinois, June 7-11
Antique Truck Club of America national meet and flea market, Macungie, Pennsylvania, June 17-18
Walcott Truckers Jamboree, Walcott, Iowa, July 14-16
Expedite Expo, Fort Wayne, Indiana July 15-16
Home Delivery World, Philadelphia, Aug. 31 - Sept. 1
Big Iron Classic Truck Show, Kasson, Minnesota
National Truck Driver Appreciation Week, Sept. 11-22
Richard Crane Memorial Truck Show, St. Ignace, Michigan, Sept. 15-17
Mayberry Truck Show, Mount Airy, North Carolina, Sept. 30 - Oct. 1
National Association of Small Trucking Companies annual conference, Nashville, Oct. 20-22
American Trucking Associations Annual Management Conference and Exhibition, San Diego, Oct. 22-26