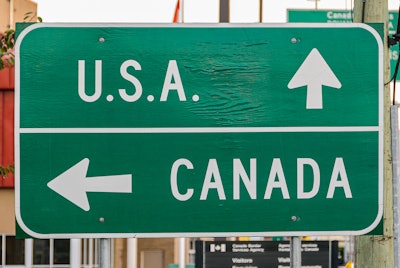 Ian Dewar Photography / Shutterstock.com
Beginning Saturday, Jan. 15, truck drivers crossing the U.S. border into Canada will have to provide proof they have received the COVID-19 vaccine.
To enter Canada, drivers must be fully vaccinated and must have received their last dose at least 14 days before entering. The Canadian government has set up the ArriveCAN website and app in which travelers into the country are required to enter their contact information, vaccination information, and more at least 72 hours before entering the country.
To meet the requirements of being "fully vaccinated" to enter Canada, travelers must have received either two doses of the Pfizer, Moderna, AstraZeneca, Covaxin, Sinopharm and Sinovac vaccines; or one dose of the Janssen/Johnson & Johnson vaccine.
Non-Canadian citizens who try to enter the country unvaccinated will be turned around, while unvaccinated Canadian citizens will be quarantined for 14 days before being allowed to reenter the country.
The United States is expected to institute a similar mandate on Jan. 22.
The Canadian Trucking Alliance and the Private Motor Truck Council of Canada have been lobbying against the mandate for truck drivers, claiming the mandate will have a severe negative impact on an already strained supply chain.
CTA estimates that the Canadian trucking industry is expecting a loss of 12,000-16,000 (10%-15%) cross-border truck drivers due to the mandate.