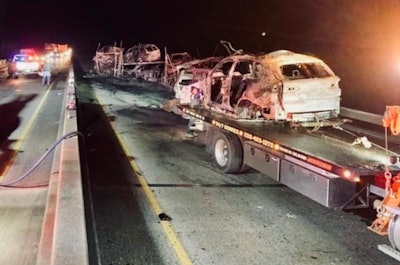 Part of Interstate 10 in Mississippi and Louisiana was still closed overnight after a loaded car hauler crashed and burned late Monday night.
The Mississippi Highway Patrol reports the tractor-trailer loaded with seven new BMWs crashed on the bridge at the Mississippi-Louisiana state line at about 11 p.m.
Police say the westbound truck struck a concrete bridge railing. The cars and the truck and trailer were destroyed in the resulting fire. The driver escaped without serious injuries.
I-10 was closed overnight but reopened this morning.
The crash remains under investigation by the Mississippi Highway Patrol.