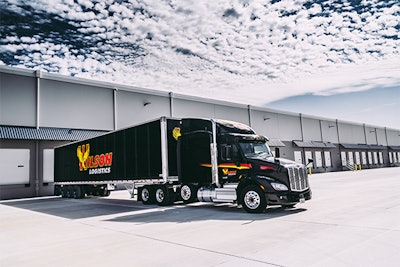 Five teenagers were arrested over the weekend in connection with the theft of stealing four semi-tractors from a Pontiac, Michigan trucking company.
A statement from the Oakland County Sheriff's office said deputies were called to Midwest Transportation after the vehicles were reported stolen. Detectives recovered three vehicles from different locations in Pontiac. The fourth vehicle was found at a Walmart in Rochester Hills. Also, several trucks from Midwest Transportation were vandalized, according to the sheriff's department.
The suspects were seen near the Rochester Hills Walmart and were arrested. Deputies recovered three Glock Airsoft pistols during the arrest. Two other suspects involved were released to the custody of their parents pending further investigation.
The teens face numerous charges.
Western division of Wilson sold to giant furniture company
Ashley Furniture has acquired the western division assets of Springfield, Missouri-based Wilson Logistics. Terms of the sale were not disclosed.
Ashley will also lease Wilson's western terminals. All non-western U.S.-based Wilson Logistics assets and business are not affected.
The deal will "expand ADS' brokerage and distribution operations in the western United States," Ashley Furniture said in a statement. "We are excited to welcome members of the Wilson team, as we continue to service existing customers and expand upon the strong legacy established by Wilson."
Wilson Logistics has a truckload fleet of more than 1,200 trucks serving the western U.S from terminals in Washington, Oregon, Montana and Missouri.
Wisconsin-based Ashley Furniture Industries is the largest manufacturer of home furnishings in the world, with over 20,000 storefronts in 155 countries.
Fire destroys building at Pennsylvania truck repair company
Fire departments from five western Pennsylvania counties responded Sunday to a fire at the Hovis Truck Repair facility in Emlenton near Interstate 80. The blaze destroyed the company's main building.
Emlenton Fire Department was initially called around 4:01 a.m. to the scene. Firefighters found the business' main building, which includes several commercial truck bays, a retail area, and offices, engulfed in flame, according to Emlenton Fire Chief Trevor Hile. Fire departments took about four hours to control the fire.
No one was inside the building at the time of the fire.
ICYMI
Maverick boosts pay for company drivers hauling glass
Poll finds how professional drivers feel about the new year
Mid-West Truckers Association cancels convention, show; omicron blamed
Give A Listen