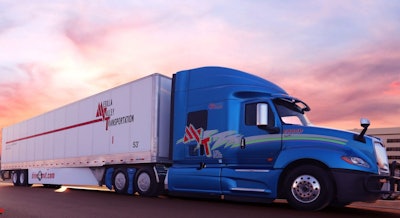 Mesilla Valley Transportation (MVT) celebrated its 40th Anniversary. Sunday, Jan. 9.
When Royal Jones and Jimmy Ray founded MVT. in 1982, MVT had only one location, a mobile home where pieces of cardboard separated the living space and office. Their fleet of two trucks was maintained outside on a dirt lot. The original employees each had many roles spanning multiple departments. The company is now one of the largest privately-owned employers in Las Cruces, New Mexico and El Paso, Texas.
As a small company, MVT believed its success would come from empowering, respecting, and caring for its employees, according to a statement from MVT. This belief remains true as they have grown to be a top transportation provider in the Southwest with six terminals, 1,600 trucks, over 5,600 trailers, and 2,000 employees.
"We pride ourselves on our people," said Royal Jones, president and CEO of MVT. "We have the best employees. Everything we do is based on the people who work at MVT. I am frequently asked how MVT grew to where it is today, and the answer is simple, it has grown because of the people I have been surrounded by for the last 40 years.
"Getting to where we are today hasn't been easy, and I am so grateful to all past, present, and future employees who make up the MVT family."
MVT is celebrating its anniversary by giving back to its people. Each month of 2022, MVT is giving away $40,000 to their employees. The monthly $40,000 will be divided into $5,000 cash prizes awarded to eight employees. All employees, staff, and drivers, are automatically entered into the drawing after completing 30 days of consecutive employment.
"It has truly been the honor of a lifetime to work alongside everyone that makes up the MVT family," said Jackie Jones, Director of Marketing for MVT. "From our employees to our customers and vendors, we cannot express how appreciative we are for your trust and support over the years. Our success would not be what it is today if it wasn't for you, and for that, we are truly thankful,"