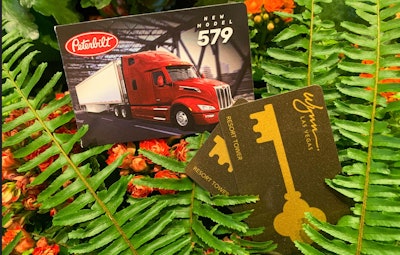 Las Vegas is abuzz these days as the NCAA basketball tournaments -- a.k.a. March Madness -- get under way.
But, the real excitement begins in Sin City next week as the Truckload Carriers Association convenes its members for Truckload 2022: Las Vegas, its annual convention.
This year's gathering at the Wynn Las Vegas gets started today and continues through the closing gala Tuesday night. In between will be a long list of meetings and educational programs, the handing out of numerous awards and no small amount of good times.
Highlights of the convention include:
naming the winners of the Company Driver and Owner-Operator of the Year awards
announcing the grand prize winners of the Best Fleets to Drive For contest
unveiling of the Highway Angel of the Year winner
keynote speech by former Housing Secretary Ben Carson
a timely presentation by cybersecurity experts Chris Tarbel and Hector Monsegur
a convention-ending concert by Southern rockers 38 Special
The convention, which is expected to attract some 1,200 attendees also features a revamped schedule, more networking opportunities, an enhanced exhibit hall with more exhibition hours, and a March Madness Viewing Lounge, Also new this year is an initiative from TCA's Communications & Image Committee asking attendees to bring new children's books to help UMC's Children's Hospital in Las Vegas kick off its literacy program. The hospital is also in need of Lego sets.
Details of this year's event includes:
Saturday
5:30 p.m. new member and first-time attendee mixer
6 p.m. kickoff reception
Sunday
Committee meetings all day
3:45 p.m. opening of the exhibit hall and TCA Tip-Off Watch Party & Lounge
Monday
8 a.m. General session featuring Best Fleets to Drive For, TCA Past Chairmen's Award, Keynote Speaker Ben Carson
2 p.m. workshops
3:15 p.m. discussion groups
6:30 p.m. Truckload Strong bowling fundraiser
Tuesday
8 a.m. general session featuring Highway Angel of the Year Award presentation and featured speakers Chris Tarbell and Hector Monsegur
2 p.m. workshops
5 p.m. closing reception
6 p.m. annual closing banquet, presentation of Company Driver and Owner-Operator of the Year Awards, and concert by 38 Special
The Company Driver of the Year award is presented b t TCA and Truckers News and the Owner-Operator of the Year award is presented by TCA and Overdrive. Both awards are sponsored by Love's Travel Stops and Cummins.