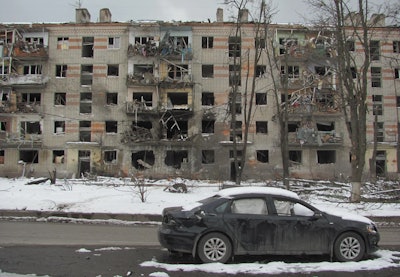 Responding to a crisis is part of the DNA of the trucking industry.
When natural disasters strike, drivers and the companies they work for respond alongside rescue crews and utility workers. On-highway mishaps – from modest to life-threatening – often find the first responder on the scene is a man or woman in a tractor-trailer.
And, proof that no crisis is too big or too daunting for truckers is the ongoing brutal invasion of Ukraine by Russia, which has claimed hundreds of civilian lives and created more than 2.5 million refugees.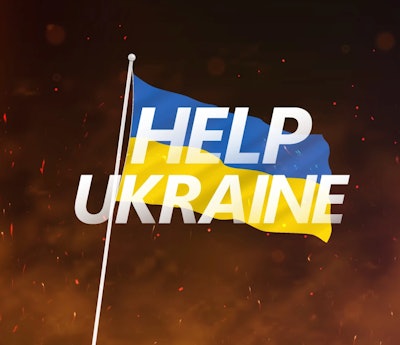 Several U.S. trucking companies have stepped up in meaningful ways to help the people and military of the country that has been under siege from Russia since Feb. 24. Two of those companies are located in the greater Chicago area, which has more than 40,000 residents of Ukrainian heritage.
Nortia Logistics and GP Transco have undertaken awareness and fund-raising campaigns to help Ukraine and its people. And, for good reason: the companies' owners and some of their executives are from Ukraine and/or have family ties to the country that declared its independence when the former Soviet Union collapsed in late 1991.
Ellen Lopatkina owns Nortia Logistics, a carrier based in Franklin Park, Illinois, and employs some 57 drivers. Its office staff is composed of many workers from or with family ties to Ukraine.
The company recently created a website ukrainiansunited.org to raise funds for Ukraine relief efforts, and has solicited donations of non-lethal supplies for the Ukraine military.
Another Chicagoland trucking company, GP Transco, also undertook efforts to raise funds from within the trucking industry to help those in need in Ukraine. The company's CEO Dominic Zastarskis and Sergey Bort, GP Transco vice president for business development, created TLPU: Trucking and Logistics Professionals for Ukraine to raise funds for humanitarian aid for the country.
"The people of Ukraine are currently in dire need of assistance, and we want to do everything in our power to bring humanitarian aid to them," said Zastarkis.
To date, TLPU has helped raise some $800,000 from 25 companies. Bort, whose wife is Ukrainian, said the company is encouraging trucking and logistics companies to send funds to three international humanitarian organizations aiding survivors and refugees: the International Red Cross, Save The Children and UNICEF.
"Humanitarian aid like this is super important," said Bort, who was born in Russia and immigrated to Israel as a child before coming to the U.S.
Ellen Lopatkina, owner of Nortia Logistics, was born in Ukraine, went to school and graduated from college there. As did her husband, whom she met after each immigrated to the U.S. separately about 20 years ago.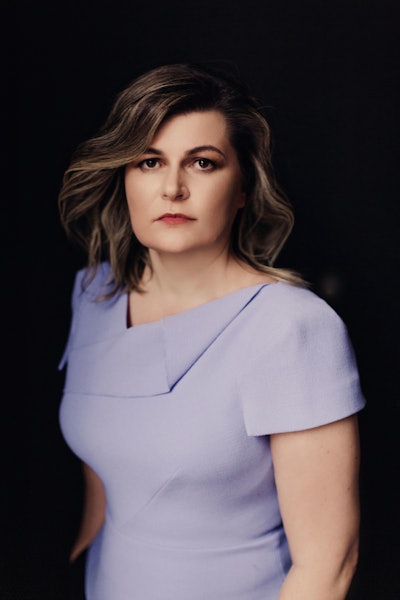 She said members of her husband's family who remained in Ukraine have fled. His 75-year-old father remained there when others left.
He lives in the city of Kharkiv, which is close to the Russian border and a favorite target for Russian bombs.
"About 70 percent of that beautiful city that he's known and loved so dearly is gone," she said. "There's not really a lot of military infrastructure in that town. They're just unfortunate enough to be close to the border so they can just shoot from the Russian side and reach the outskirts of town. And, those outskirts are just heavily residential areas."
Lopatkina said her father-in-law is sheltering in place in Kharkiv, which is about 25 miles from the border. "It's extremely scary to be talking to him (on the phone) and hear explosions in the background."
Many of her employees are likewise having to deal with the uncertainty of relatives and friends affected by Russia's attack. She said about 20 people who work in the office of Nortia Logistics are from or have ties to Ukraine. Many have relatives still there.
"I have a girl whose mom and dad are still in Ukraine," she said. "Most of the girls here are from western Ukraine but have family members who have been drafted. Their cousins, their fathers are on the front lines now. Some are in territorial defense units that are patrolling the streets of their towns to make sure the cities in western Ukraine are safe, or as safe as they can be now."
Lopatkina admits she was surprised by Russia's move into her homeland.
"I was probably the biggest proponent that this wasn't going to happen," she said of Putin's attack on Ukraine. "I would argue until I was blue in the face that it was just posturing. Just, you know, showing off, and kind of being the peacock of Europe with his military right on the border of its neighbor."
But, now she compares it to another attack on Ukraine: the one in 1941 when the Nazis invaded.
In response, Lopatkina quickly formed an effort and website to facilitate donations of humanitarian and medical aid to people still in Ukraine as well as refugees. Ukrainiansunited.org is also collecting funds and non-lethal material to help outfit those defending the country, especially the territorial defense units, many of which do not even have proper warm clothing, winter boots, body armor or helmets. Some are patrolling the streets of their home cities in sneakers and wearing paintball gear.
She said the effort has also attracted attorneys and export specialists to ensure donations are expedited and get to where they are intended. Donations are being used to purchase supplies and equipment already in Europe that can be delivered quickly. The organization has also focused on medical supplies.
"I am honestly amazed as to how the community and people around it have come together and offered their help in anything from providing free air freight, to donating medical supplies."
Another company is also helping raise funds to supply the Ukraine army and deliver supplies to civilians still in the country and the refugees fleeing the fighting, which continues to escalate.
Meest-America, Inc., a package delivery with services from the U.S. to Ukraine, Russia, Belarus, Moldova, Uzbekistan, Kazakhstan, Kyrgyzstan, Georgia, and Azerbaijan. The Port Reading, New Jersey-based company said it is partnering with Razom to raise money to ship humanitarian supplies that have been generously donated by the Ukrainian communities in the area.