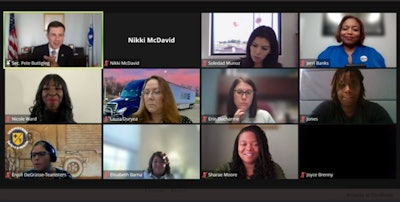 "Crimes against truck drivers are prevalent."
That's a key finding of a new survey conducted for the Federal Motor Carrier Safety Administration and presented at Wednesday's inaugural meeting of its Women of Trucking Advisory Board. The board was created as part of the Biden Administrations Trucking Action Plan.
FMCSA said it conducted its survey, Crime Prevention for Truckers, to better understand the nature and prevalence of harassment and assaults against truckers, specifically women and minorities. The report details harassment, threats of harm, or actual physical harm perpetrated against truckers, their possessions, vehicles, or cargo, according to an FMCSA statement issued after Wednesday's meeting.
The survey also found:
59% of women, 52% of minority men and 51% of non-minority men report being called a name they did not like
38% of women, 40% of minority men, and 44% of non-minority men report they received words that threatened to hurt them
33% of women, 8% of minority men, and 14% of non-minority men report being touched inappropriately
17% of women, 26% of minority men, and 25% of non-minority men report having their truck or cargo vandalized
15% of women, 7% of minority men, and 13% of non-minority men report having been pushed, hit or physically hurt
14% of women, 25% of minority men, and 24% of non-minority men report having been threatened with a weapon (gun, knife, wrench, or tire thumper)
The survey found that female drivers are exposed to more sexual harassment at their companies or by their trainers than their male counterparts.
RELATED NEWS: FMCSA names 16 members to newly-formed advisory board of women
Results of the survey also show individuals committing crimes against truck drivers are more likely to be other truck drivers whom the victims did not already know. It found 31 percent of women, 27 percent of minority men, and 34 percent of non-minority men who were victims mentioned that the perpetrator was another truck driver they did not know before.
However, the survey found that much of the harassment drivers face goes unreported. Results show 42% of women, 57% of minority men, and 51% of non-minority men choose not to report the harassment. Many respondents said they did not think that it would make a difference, while others said they have to deal with it.
"Safety is FMCSA's number one priority, and all truckers should feel safe in this industry," said FMCSA Administrator Robin Hutcheson addressing the online meeting. "It's so important to have a diverse board of women trucking professionals who will help make the industry safer and a more appealing career option not only to women but to everyone who has been underrepresented in the industry."
Hutcheson added, "The survey information will contribute to better understanding obstacles to joining the industry, and to implementing best practices moving forward. Addressing the results and recommendations of the study will be the first of many opportunities for WOTAB to make an impact."