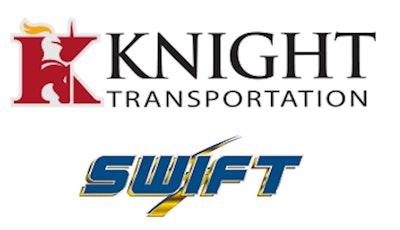 Knight-Swift Transportation Holdings Inc. today announced it will acquire U.S. Xpress for about $808 million in one of the largest trucking industry acquisitions in recent years.
The deal is expected to close late in the second quarter or early third quarter, subject to customary closing conditions, according to a statement from the two companies.
"The opportunity to improve earnings, gain customers and reach more professional drivers, was very compelling to us," said Knight-Swift CEO Dave Jackson. "We expect to apply the same playbook that proved successful in the Knight-Swift merger as we share best practices, improve operations and work together to help U.S. Xpress become the best that it can be.
"Although it will take time, particularly given the current freight environment, we would not have pursued the transaction unless we were confident in achieving our return thresholds within a few years. Beyond that, we will continue to work with the U.S Xpress team in pursuit of the performance levels of our other truckload businesses over the next several years, so the opportunity for our stockholders is substantial. Moreover, this transaction will not slow down the geographic expansion of our LTL network or our other growth initiatives, as our financial and other resources remain significant."
After the closing of the transaction, U.S. Xpress will continue as a separate brand and operation to minimize disruptions for the driving associates, shop and office employees, and customers. At the same time, cross-functional teams made up of leaders from Knight, Swift, and U.S. Xpress will work together to leverage economies of scale, freight network efficiencies, and best practices, according to today's statement.
U.S. Xpress is based in Chattanooga, Tennessee and generated approximately $2.2 billion in total operating revenue in 2022 while serving customers through a network of about 14 terminals and 30 drop yards, primarily located across the eastern U.S. U.S. Xpress' fleet includes about 7,200 tractors and 14,400 trailers, including tractors provided by some 1,000 independent contractors. The company's workforce includes about 7,900 drivers (including independent contractors), 300 maintenance technicians, and 2,200 non-driver employees.
U.S. Xpress CEO Eric Fuller, said: "We are very pleased to deliver to our stockholders the opportunity for near-term liquidity at a significant premium. Additionally, joining the Knight-Swift team is an exciting opportunity for our people, our customers, and the Chattanooga and other communities we call home. The increased scale, operating expertise and resources of the combined entity will allow U.S. Xpress to pursue new levels of service and efficiency. We're delighted that U.S. Xpress will continue to operate as an independent brand and will do so with the support and partnership of one of North America's strongest transportation companies."
U.S. Xpress shareholders will receive $6.15 in cash for each share they own, which is 310% above Monday's close of $1.50, according to MarketWatch.
At closing, members of the Fuller family along with Eric Peterson, CFO, will transition out of their executive officer roles while remaining available to ensure a smooth transition. Tim Harrington and Josh Smith, both executives at Swift and members of the teams that helped achieve significant margin improvement following the Knight-Swift merger, will join U.S. Xpress as President and CFO, respectively.
"The Fuller family, along with their co-founders, the Quinns, built one of the largest and fastest growing truckload carriers in the country, which is a significant accomplishment in such a fiercely competitive industry," said Jackson. "We're honored to lead the next phase of U.S. Xpress' development, and we are pleased that the Fullers are willing to link a portion of their economic outcome to ours to mitigate the transition risk and will be aligned with us in ensuring that U.S. Xpress becomes the best it can be."