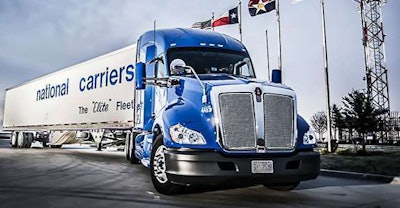 National Carriers based in Irving, Texas honored several of its drivers recently.
Recognized for driving 1 million accident-free miles were Stephen Dixon of Dallas and Kenneth Covington of Johnson City, Tennessee. Both drive for the company's refrigerated division. Each driver received an embossed plaque, embroidered hat and a personalized winter jacket during their recognition.
National Carriers also presented five year safe driving rings to Jose Garcia Sr. of Guymon, Oklahoma and Oscar Palacios of Liberal, Kansas. Both drive for the company's livestock division and received a service ring featuring a red ruby.
National Carriers, Inc. is a diversified motor carrier servicing all 48 states in the continental U.S. with refrigerated, livestock, and logistics services.