Saia LTL Freight Monday, March 20, announced it will open four terminals in Pennsylvania and New Jersey by the beginning of May.
New terminals in Harrisburg, Philadelphia, and Pittsburgh, and Newark, New Jersey will allow the company to offer less-than-truckload services to more direct shipping points.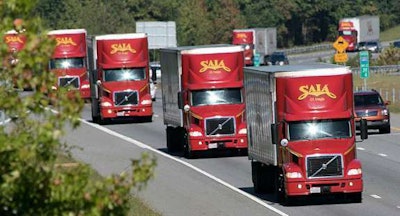 "We're pleased to report that Saia's strategy to expand our LTL and logistics services into the Pennsylvania and New Jersey markets is on track," said Saia's Chief Customer Officer Ray Ramu. "The new terminals have been secured and our team is in the process of updating and designing the operational layout to meet our customers' expectations."
In addition to these four terminals, Saia said it has also purchased a facility in Laurel, Maryland between Baltimore and Washington, D.C. It's scheduled to open in the third quarter of the year and will expand the carrier's direct LTL and logistic services in the states of Maryland, Delaware and northern Virginia.
A statement from the company, which is headquartered in Georgia with 9,000 employees nationwide, said expanding into the Northeast is part of a multi-year plan that will continue into 2018.