A Utahcarrier has instituted a new pay program for its over-the-road drivers.
Pride Transport, a family-owned and operated carrier in Salt Lake City, recently announced what it calls an "innovative and unique Point-to-Point program" for its over-the-road solo and team drivers.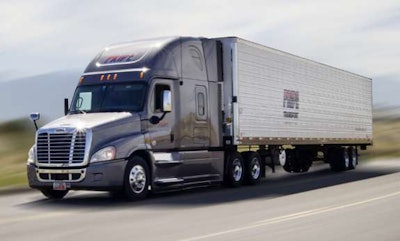 "Our new Point-to-Point program pays drivers for the distance of the leg they drive, not just the total length of the load," said Steve Schelin, Pride's director of recruiting. "We're ensuring that drivers truly get paid for their time and don't fall short. We want drivers to know that they can get the pay they deserve here at Pride Transport."
Pay under the new program comes out to a higher pay per mile for drivers – up to 55 cents per mile, according to a statement from Pride. The company also said this pay program includes pay for deadhead miles at up to 20 cents more per mile than the base pay.
The company said:
Pride Transport's unique point system allows drivers to earn more the harder they work and the more experience they have. For instance, having three years of driving experience equals 30,000 career points to increase pay. Points are also given for miles, fuel efficiency and on-time delivery each month.
Company drivers at Pride Transport can earn a $2,000 sign-on bonus, opportunities for safety and MPG bonuses, in-cab DirecTV, affordable health care plans and paid orientation. Pride Transport also has 100 percent no-touch refrigerated freight, paid holidays, paid vacation after a year, and pet and rider programs.
Pride Transport has 450 units and provides OTR, regional, dedicated and local service in its temperature controlled division. It also has an OTR and regional flatbed division.