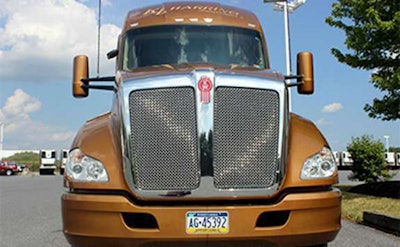 A Pennsylvania carrier recently increased per-mile pay for drivers as well as its weekly guaranteed minimum pay.
As of July 1, K.L. Harring Transportation, LLC, a team truckload service specializing in dedicated time-sensitive cargo and located in Bethel, Pennsylvania, increased team driver pay to 70 cents per mile. It also raised weekly guaranteed minimum pay to $1,600 per driver for each week out on the road, regardless of the number of miles driven, according to a statement from the company.
The company also said team drivers will also be eligible for pay incentives related to fuel savings and safe operation, each paid on a quarterly basis, which can add up to 4 cents per mile added to the base rate.
"We have always believed that our drivers are the most important part of our company, and we have always tried to be proactive with our pay," said company President Keith Harring. "We want to reward our drivers for their continued great work, and we want to have a highly competitive compensation program in place that will allow us to continue to welcome experienced team drivers into what we feel is one of the nation's most elite fleets."
According to a statement from the company, the National Transportation Institute says K.L. Harring's drivers are among the best-compensated in the country. The institute endorsed the company as a "Certified Top Pay Carrier" this year.
"We have a great deal of respect for Keith and the approach he has taken in building his company – from being an owner-operator driving his one truck 40 years ago to where K.L. Harring Transportation is today," said Leah Shaver, chief operating officer of the institute, who oversees NTI's Top Paid Carrier certification. "We evaluated the pay package at K.L. Harring Transportation before it was finalized, and we found it to be one of the best pay packages in the entire country for teams. Though KLH was found to pay above market-level in our pay analysis, Mr. Harring chose to further elevate base pay rates and the weekly minimum guarantee, while also seeking areas to decrease expenses for KLH dedicated team drivers."
"We're incredibly honored that the National Transportation Institute has endorsed us as a Certified Top Pay Carrier in 2018," said Harring. "This kind of recognition within the trucking industry is very meaningful to our entire company because it speaks to the commitment and dedication we have to our drivers."