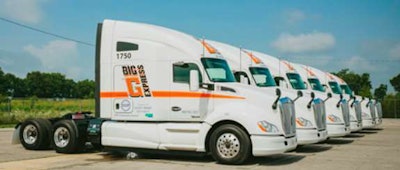 Big G Express, Inc., a truckload carrier based in Shelbyville, Tennessee, recently announced changes to its driver pay. The employee-owned company rolled out a 2-cents-per-mile pay increase and switched to a PC*Miler practical miles pay program.
"Our drivers have been asking to be paid on practical miles for a while now and we're listening," said Randy Vernon, president of Big G Express. "Big G is constantly looking for ways we can maximize our drivers' earning potential and we're excited to make these major changes to driver pay."
The PC*Miler practical miles pay program compensates drivers according to the driving routes and distances they are most likely to take, according to a statement from the company. Big G Express previously used the PC*Miler short miles program, which pays drivers on the most direct route possible. By using PC*Miler practical miles, Big G Express drivers can expect more accurate pay to the miles they actually drive, according to the statement.
The company's 2-cents-per-mile pay increase brings driver starting pay to 42 cents per mile with top out pay at 52 cents per mile. Both pay changes took place Aug. 26.
"Not only will Big G drivers earn more than ever with these changes to pay, but they'll also continue to receive our monthly mileage bonus of 1 cent per mile for every mile over 11,000," said Vernon. "We're also excited to share that the pay macro is back on Qualcomm."
Founded in 1995, Big G Express, Inc., is employee-owned and has over 600 tractors and 1600 trailers.