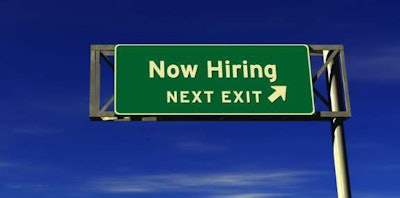 The for-hire trucking industry added 5,700 jobs on a seasonally adjusted basis in August, according to the Department of Labor's monthly Employment Situation Report. However, the Labor Department revised July's originally reported gain of 4,400 jobs downwardly to a gain of 1,400 jobs.
August was the fourth straight month that trucking saw employment gains and the eleventh month out of the last 12 to post an increase, according to the DOL's data.
Total trucking employment in August was 1.483 million — a gain of 30,600 jobs from last August.
The manufacturing sector in August dropped 3,000 jobs, while the construction industry added 23,000 jobs. The transportation and warehousing sector, the umbrella sector of trucking, added 20,200 jobs, according to the DOL.
Trucking's total is based on payroll statistics of employers and does not account for those who change jobs in the month or for those working for private fleets.