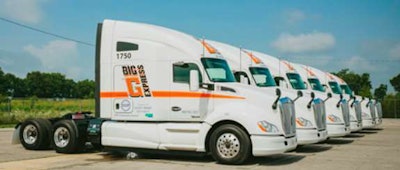 Drivers for several major carriers are getting paid more these days.
Super Service LLC announced recently a performance plus pay program, allowing drivers to earn up to 52 cents per mile. The program allows drivers to earn more based on safety, availability, miles per gallon and service performance. The company also announced a $15,000 sign-on bonus.
Big G Express is rolling out a 2 cents per mile increase, as well as switching to a PC*Miler practical miles pay program. The PC*Miler program compensates drivers according to the driving routes and distances they're most likely to take. The company previously used the PC*Miler short miles program, which pays driver on the shortest route possible. The 2 cents per mile increase brings starting pay to 42cents per mile with top-out pay at 52cents per mile.
USA Truck boosted pay for its regional drivers, effective Sept. 9. The raise includes a cents-per-mile base pay increase, based on the driver's region. Under the new pay structure, drivers can earn up to 52.5 cents per mile. In addition to the base pay increase, USA Truck offers drivers a chance to earn up to 6 additional cents per mile to their weekly pay based on how many miles they run during the week.