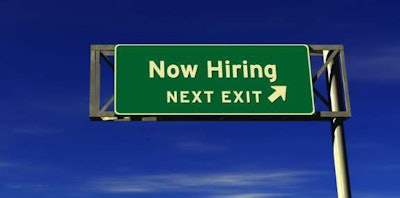 The for-hire trucking industry added another 4,900 jobs in the month of September, according to preliminary figures from the Department of Labor. That's the fifth consecutive month to month increase, dating back to May, and the industry has 16,600 jobs since, according to the DOL.
Trucking employment totaled 1.4879 million in September — a gain of 33,100 jobs compared to last September. Trucking has added jobs in every month out of the past 13, except for April 2018.
The manufacturing sector in September added 18,000 jobs, and the construction industry added 23,000 jobs. The transportation and warehousing sector, the umbrella sector of trucking, added 23,800 jobs, according to the DOL.