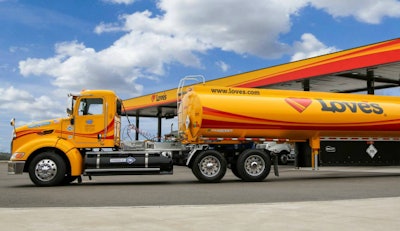 Gemini Motor Transport, the primary fuel hauler for Love's Travel Stops & Country Stores recently honored 60 drivers in its Safe Driver Credits program. The drivers will share in $1.85 million in bonuses.
The company explained the criteria for the bonus program:
Safety credits are awarded to drivers on an annual basis. To earn one credit, drivers must remain accident-free and have no tickets or fuel-related incidents over the course of one year. Drivers must also pass all U.S. Department of Transportation and Gemini inspections and adhere to Gemini's stringent safety policies. Once drivers collect five safety credits, they're eligible to receive the bonus.
"Gemini prides itself in driver safety and this program is one of the many ways we show our support and appreciation to the drivers who make safety a top priority," said Brent Bergevin, vice president of transportation for Gemini. "The Safe Driver Credits program has drastically reduced driver turnover and has helped Gemini continue its incredible safety record."
Since recognizing the inaugural class in 2016, Gemini has awarded more than $8.1 million in Safe Driver Credits to drivers.