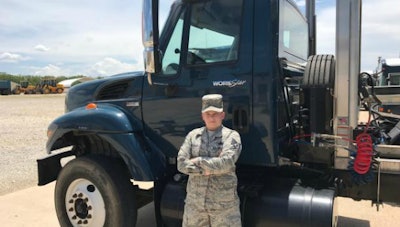 A special federal program and study to allow a limited number of 18 to 20-year-olds who possess the U.S. military equivalent of a commercial driver's license to drive trucks in interstate commerce is now accepting applications.
During the pilot program, which is expected to last up to three years, the safety records of participating drivers will be compared to the records of a control group of drivers.
To participate, a driver must be employed by a participating trucking company. While there is no limit to the number of carriers that may apply to participate in the program, the Federal Motor Carrier Safety Administration expects to need 70 motor carriers to hire at least 200 drivers. The study will also collect data for 200 control group drivers and 200 intrastate drivers.
"We are excited to launch this program to help the brave men and women who serve our country explore employment opportunities in the commercial motor vehicle industry," said FMCSA Administrator Raymond P. Martinez. "With the nation's economy reaching new heights, the trucking industry continues to need drivers and have job openings. We encourage veterans and reservists to apply and to learn more about this exciting new program."