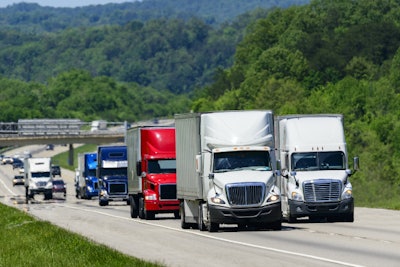 As the federal government seeks comments on a proposal to create a pilot program to allow 18 to 20-year-olds to drive interstate, trucking's major union has come out strongly against it.
In July 2018, the DOT announced details of the Commercial Driver Pilot Program required under the Fixing America's Surface Transportation (FAST) Act, which allows certain 18- to 20-year-olds with military training to operate CMVs in interstate commerce. The new pilot program suggested by the Federal Motor Carrier Safety Administration is open to all 18-20-year-olds.
At present, drivers ages 18-20 currently may only operate CMVs in intrastate commerce.
FMCSA requests comments on the training, qualifications, driving limitations, and vehicle safety systems the agency should consider in developing options or approaches for a second pilot program for younger drivers.
Meanwhile, Teamsters General President Jim Hoffa said the proposal is a "grave concern" to other drivers.
"The decision by the [FMCSA] to propose a pilot program that would lower the commercial driver's license restriction from 21 to 18 is of grave concern to those who use the roadways as their workplace every day," said Hoffa in a statement from the Teamsters Monday, May 20.
Hoffa'sstatement continues:
"During the last highway bill, the FAST Act, Congress dictated how FMCSA could approach this topic. FMCSA was told it could do so in a highly controlled manner using only veterans and other members of the military who had experience driving during their time in the service. That safeguard was an important step towards counter-acting the enormous safety risks inherent with having teenagers running tractor trailers across long distances. Ignoring that decision and unilaterally deciding to explore a much broader pilot program represents a dismissive wave of the hand to the will of Congress.
"This program is also being discussed under the auspices of easing a driver shortage that mainly plagues one subset of the trucking industry. Instead of discussing the rampant turnover that part of industry faces, or the low pay and tough working conditions those drivers endure, we are disappointed to see the agency only focus on how they can get more drivers into these jobs with no suggestions of how to improve the quality of the work while they are there. Younger drivers should not be expected to tolerate substandard working conditions any more than their older counterparts. Asking them to do so while also potentially jeopardizing the safety of all road users only makes this decision more troubling."
The Owner-Operators Independent Drivers Association has spoken out in opposition to the proposed pilot program. The American Trucking Associations favors it.
Alabama recently passed legislation to allow 18 to 20-year-olds to apply for commercial drivers licenses but only to drive within the state.