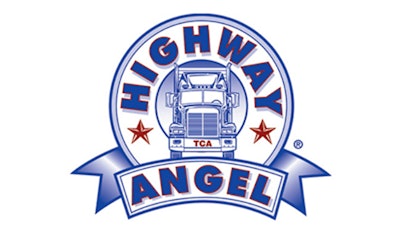 The Truckload Carriers Association has recognized a Melton Truck Lines driver as a Highway Angel after he helped a couple whose vehicle was pushed into his truck by another truck on a mountain pass during a blizzard.
The trucker, Sam Dyess, of Killeen, Texas, was going over the mountains just west of Cheyenne, Wyoming on Interstate 80 on Nov. 24. Temperatures were in the low 20s and it was snowing hard.
A truck ahead of Dyess stopped in the middle of the interstate, for no apparent reason. There was a Jeep Wrangler between Dyess' truck and the truck ahead of him that had stopped. They were on an incline and the truck ahead began to slip backward. The Wrangler was struck by the first truck and pushed back into Dyess' truck. Then the truck ahead moved forward and drove off, not stopping to check on the Wrangler.
Both the Wrangler driver and Dyess began driving again until they reached the first exit, where they both pulled off to the side of the road. Dyess checked on the driver and passenger, who both told him they were okay. They had called state troopers but had been told it would be an hour before a trooper could arrive, so Dyess invited them both to sit in his warm truck. They waited together in his truck for about two hours until a trooper arrived.
"I was just doing the right thing; trying to take care of business and maintain integrity," Dyess said. "Being a professional driver, it's about more than just getting from Point A to Point B. You also need to take care of everyone around you; that's my job."
TCA presented Dyess with a Highway Angel certificate, patch, lapel pin and truck decals.