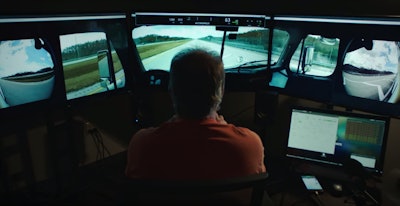 Autonomous trucking start-up Starsky Robotics – a San Francisco based company that uses remote driving capabilities – is launching a program that offers opportunities for drivers to join the company's 36 truck fleet of human-driven units.
Starsky Robotics Founder and CEO Stefan Seltz-Axmacher says his company uses its growing traditional trucking business as a source of safe, experienced and well-trained drivers to staff its safety and remote driver team. The fleet, he says, has already hauled more than 2,000 loads.
The goal of the program is to hire traditional over-the-road drivers and move them along to a different role — one that ensures the safe operation of autonomous driving. The career path could also lead to a job as a remote driver.
Starsky's platform removes the driver from the truck by fine-tuning autonomous technology for highway driving but retains the driver's expertise for remote controlled driving on the first and last mile. Starsky says its approach provides drivers with better work-life balance, fair wages and promotional opportunities.