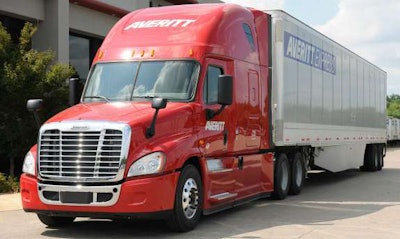 One major trucking industry carrier made good on a hiring promise about four months early.
Tennessee-based Averitt Express made a pledge in 2016 to hire 1,200 veterans by 2020. But, the company officially completed its 1,200th veteran hire July 9, accomplishing its goal with over four months to spare.
"We're proud of our team's strong track record of working with military veterans and for being a prime choice for these heroes as they transition to civilian life," said Gary Sasser, Averitt's chairman and CEO, who served in the Marine Corps Reserves. "The level of leadership, pride and professional experience veterans bring to the table is a perfect fit with our own culture. That's why we'll continue bringing on more even after achieving our 1,200 by 2020 goal."
In addition to weekly driver pay and tuition/transition bonus earnings, Averitt says service members who are eligible for GI Bill benefits can earn up to $1,140/month tax-free as part of the company's GI Bill Driver Training Program. Associates in this program receive six weeks of paid behind-the-wheel training before working alongside a mentor. To qualify, drivers must be at least 21 years old, have a Class A CDL and Post-9/11 GI Bill benefits available, and meet all requirements outlined in Averitt's driver application.
Located in Cookeville, Tennessee, Averitt operates at 143 locations and serves locations throughout the southern U.S., Canada, Mexico, and the Caribbean. It operates some 4,600 trucks and 14,900 trailers.