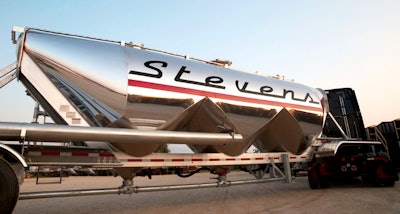 One of the largest fleets in the country, Stevens Transport, announced it is closing its Dallas, Texas-based oilfield tanker fleet, effective Tuesday, Oct. 15, according to a notice submitted to the Texas Workforce Commission. The closure will put more than 550 truck drivers out of work.
Stevens Tanker Division, a subsidiary of Stevens Transport submitted a WARN notice to the state of Texas Sept. 26 stating it would be ceasing all operations at all 12 of its locations in Texas, Louisiana and Oklahoma.
The shutdown comes just a few days after another major carrier announced it was closing its dry van operations. Roadrunner Transportation Systems Sept. 30 said it was shutting down its dry van service, cutting 450 jobs. In addition, some trucking companies have laid off drivers because of the continuing United Auto Workers strike against General Motors.
According to the Federal Motor Carrier Safety Administration's Safety Measurement System, Stevens Tanker has 576 drivers and 853 trucks.
The WARN notice indicates 586 employees will be laid off at nine Texas locations – the majority of which (367) are employed at the company's Stockdale, Texas, facility east of San Antonio. It's unclear how many employees will be affected at two Louisiana locations and one in Oklahoma.
Stevens Tanker Division has hauled water and sand for oil and gas companies in Texas, Oklahoma, Louisiana and New Mexico.
Attempts to reach Stevens Tanker for comment on the closure have not been returned as of Wednesday afternoon. A photo circulating on social media of a purported memo to Stevens Tanker employees states the oil and gas industry has slowed down since December 2018, adding that the company has seen a 65% reduction in sand orders since Sept. 20.
Bloomburg late last week reported drilling activity in the Permian Basin has dropped drastically, leading to job losses and a general economic slowdown in the region. It said drilling in the massive oil patch of West Texas and New Mexico is down 19% so far this year.