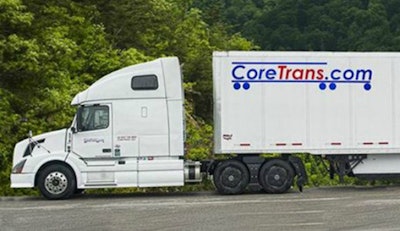 CoreTrans, based in Somerset, Kentucky, recently announced a new pay program for drivers. With the new pay plan, CoreTrans' drivers can now earn up to 53 cents per mile as well as added home time options.
Under the new pay plan, drivers can receive anywhere from 47-53 cents per mile based on their years of experience while team drivers can earn 71 cents per mile. CoreTrans still offers weekly home time, but drivers will now have the option of a 12-2 schedule, which gives them 48 weekend hours off after every 12 days of working. New drivers to CoreTrans will also be eligible for the company's $5,000 sign-on bonus, which pays out during the driver's first nine months of employment.
In addition to the new pay, CoreTrans offers $500 paid orientation; health, dental, vision, and life insurances; 401k and paid vacation; 100% no-touch freight; no forced dispatch to New York City; and pet and rider policies. Drivers can also increase their income with CoreTrans' $3,500 referral bonus and .5 CPM raises every six months with no cap.
"At CoreTrans, we value our drivers' experience and their hard work," said Jeff Ellis, chief operating officer for CoreTrans. "As the backbone to our business, we can now offer our drivers a competitive pay package that will continue to take care of our drivers as we move forward."
Founded in 2002 by CoreTrans President Brian Whitaker, a third-generation trucker, CoreTrans operates over 135 trucks and 265 dry van trailers.
Search thousands of trucking jobs to find the job you want.
Find Your Next Job Today